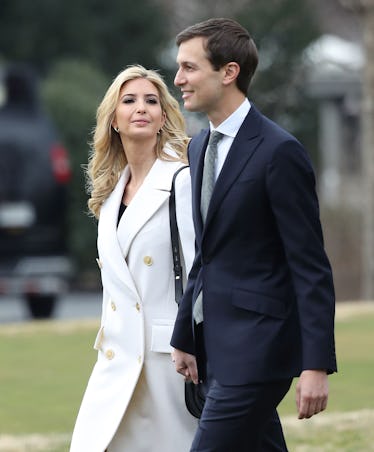 Ivanka Trump's Birthday Message For Jared Kushner Is So On-Brand
Mark Wilson/Getty Images News/Getty Images
On Wednesday, Jan. 10, Jarvanka reminded us of their perfect little love story when Ivanka Trump tweeted for Jared Kushner's birthday. In her post, Ivanka wrote, "Happy birthday, Jared! Thank you for being the most amazing father, husband, and best friend I could have dreamed of. Here's to you!" The post was accompanied by a photo of the couple during one of Ivanka's three pregnancies. The couple has three small children: Arabella, 6, Joseph, 4, and Theodore, 1.
The term Jarvanka was coined by former White House chief strategist Steve Bannon, as reported by Michael Wolff in his book, Fire and Fury: Inside the Trump White House. Aside from their ties to the Trump administration, it's hard to deny that Ivanka and Jared's partnership, both political and familial, is powerful.
The couple, who started dating in 2007 and tied the knot in 2009, has played the right cards in how to appear in the public eye. While many dismiss President Trump's antics, Ivanka and Jared have often been seen as the stable, all-American family couple that also happens to have a direct ear to the president's decision-making. Because of their love for their children (who happen to be quite adorable) and each other, the couple has lent the public a sympathetic card that reveals their humanity, which is more than we can say for the president and first lady.
Ivanka has let the public in on aspects of her family life through social media— an effective way to win people over. She never misses the chance to post an endearing family pic on an anniversary, Father's Day, or holiday.
In October 2017, Ivanka posted a photo from her and Jared's wedding day to celebrate their anniversary. The caption wrote, "Happy eight-year anniversary to the love of my life!"
During the holiday season, Ivanka posted a series of photos of the family celebrating Chanukah, as the five of them lit the Menorah together. Again, holidays, cute children, family picture, it's an easy win.
On Father's Day, Ivanka celebrated her husband on Twitter with a warm post saying, "Happy Father's Day! Thank you, Jared, for loving, encouraging and teaching our kids (and me!) everyday. We love you very much!"
Ivanka and Jared are certainly not just mushy, lovey parents. In an excerpt of Wolff's book published by New York magazine on Wednesday, Jan. 3, Wolff wrote that Ivanka and Jared were "as much the chief of staff as [Reince] Priebus or Bannon" as they reported directly to the president in order to have direct access and influence in the administration.
Since Trump entered office, Kushner has been said to have a large role in repairing the government's technological needs, as well as creating resolutions for Middle Eastern conflicts such that between Israel and Palestine. Ivanka has also played a major role in raising the child tax credit and has been one of the president's closest advisers. According to Wolff, the couple maintained an understanding in their partnership that, if the time comes, Ivanka would be the one to run for president.
Wolff received great pushback from the Trump administration for his observations on Ivanka and Kushner. On Jan. 9, Deputy White House Press Secretary Hogan Gidley responded to the book's attack on Jarvanka saying, "When you go after somebody's family, in the manner in which [Wolff] did — two of the president's children who are serving this nation, sacrificing in their service — it is repugnant, it is grotesque."
No one knows the full extent to which Ivanka and Jared have been complicit in mischievous White House activity, and while people continue to speculate and criticize them, Jarvanka will continue to win others over and cover their tracks with an excellent pulse on political presence, as well as the mushy, family love and cute Instagram posts.