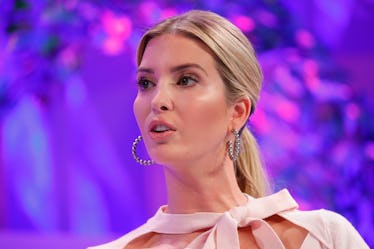 Ivanka Trump's Message Celebrating Hanukkah Is Spreading The Holiday Cheer
Paul Morigi/Getty Images Entertainment/Getty Images
There's no time like the present for rich hot chocolate, cozy sweaters, gift-giving, and — of course — holiday posts. From holly, jolly Christmas memes to cheery Pinterest recipes, I can truly never get enough of seeing people express their holiday spirit. That's why Ivanka Trump's tweet about Hanukkah 2018 is on my radar. To be honest, you've never really seen excitement until you see her post.
The first daughter shared the festive words with her fans in a message shared to Twitter on Sunday, Dec. 2, marking the first of the holiday's eight nights. Decorating the post with a dreidel emoji and a heart-warming hashtag, Trump wrote: "I hope the candles burning bright in Jewish homes around the world light up hearts and bring joy to all this holiday season. #HappyHanukkah" Aww.
If you somehow weren't aware, Trump converted to Judaism around 2009 to pursue a relationship with her now-husband, White House senior adviser, Jared Kushner. In a 2015 interview with Vogue, she called her conversion a "great life decision," adding:
I am very modern, but I'm also a very traditional person, and I think that's an interesting juxtaposition in how I was raised as well. I really find that with Judaism, it creates an amazing blueprint for family connectivity.
...That's evident, judging from all of Trump's cheerful holiday moments with her family — like in 2016, when she shared a photo of their Hanukkah celebration while vacationing in Hawaii. "This year is one of the rare and special occasions where Hanukkah and Christmas coincide," she wrote in the caption of a family Instagram photo. "As we light the candles, sending love from our family to yours this holiday season! Merry Christmas & Happy Hanukkah! #happyholidays,"
Perhaps wisely, this year Trump didn't share any photos, so she missed the jokes that her step-mom, first lady Melania Trump, got. For 2018, Melania Trump went all out with the holiday decorations for the White House, and it didn't go over entirely well. "This year's theme, 'American Treasures,' honors the unique heritage of America," the White House said in a statement unveiling the decorations on Nov. 26. "Designed by first lady Melania Trump, the White House shines with the spirit of patriotism. This home, held in trust for all Americans, displays the many splendors found across our great Nation." And it's as extraordinary as it sounds, from its unique wall decor to its, um, interesting color schemes.
One of the most talked about decorations is all-red Christmas trees that line the hallways of the White House (which wasn't necessarily in a good way, as many likened the decor to the horror film The Shining, or The Handmaid's Tale.) Others were stunned at Melania's use of her catchphrase for her anti-bullying initiative #BeBest across ornaments and wreaths around the house. Not to mention, all the shrubs, glitter, and other holiday-inspired decor adorned around the property. Here's a closer look at the designs:
For what it's worth, the first lady later defended her decorations, saying that "everybody has a different taste." OK, fair enough.
Still, just imagine how they're gonna go out for the holidays in 2019. If their celebrations over the past few years are any indication of what's to come, you won't want to miss it. Happy Holidays!