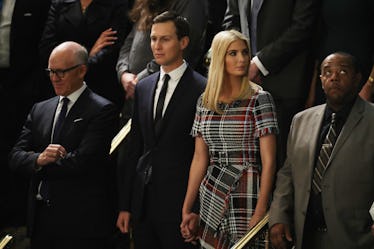 Ivanka Trump Wore A Very Simple Dress To The State Of The Union & I'm Into It
Chip Somodevilla/Getty Images News/Getty Images
Whether you're a fan of President Trump's daughter and trusted adviser or not, you can't deny that Ivanka Trump is a natural-born fashionista. From her father's inauguration ceremony to visits on the world stage, you can always rely on the first daughter to take your breath away with her distinctive-savvy fashion choices. In fact, I think when it comes down to Trump attending an event, the universal question everyone asks in their heads is: what is she gonna wear? Tonight, Ivanka Trump's State of the Union dress has made it loud and clear that nothing has changed — she's still a modern muse with her own unique identity in the mundane-ish sphere of politics.
On Jan. 30, Trump arrived to the State of the Union donned in a black, red, and white plaid dress, apparently designed by Oscar de la Renta. The multi-layered outfit is decorated with frills on the sleeves and folds, which add modish, chic touches to an otherwise simple dress. Trump also paired her outfit with a matching plaid belt, strapped just above her waist. Just minutes before the State of the Union began, the White House advisor snapped a fun video debuting her gown on her Snapchat, and honestly, though she kept it simple, she looks really elegant.
Told you.
Since stepping down as the CEO of her eponymous fashion line to take a position among the president's White House staff, Trump has been known to sport simplistic items from her brand, often dressed in floral patterns, pastel colors, and plaid prints, so it's not all that shocking that she stuck to one of her standard fashion selections.
Trump has been criticized for some of her fashion choices in the past.
During a visit to India in November 2017, Trump was scrutinized for her choice to sport high-end brands like Tory Burch rather than pay respect to the country with native fashion pieces. Though the pearled jacket she wore on her first day of the trip was reportedly an ode to Hyderabad's history of being known as the "City of Pearls," many felt like she missed the mark. And on the second day, she wore a decorated gown that was similar to Indian-style dresses — but since it wasn't the real thing, the outfit pick caused even more eyebrow raises.
On Nov. 3, 2017, while attending the World Assembly for Women in Tokyo, Trump wore a pink Miu Miu miniskirt and matching jacket, which quickly drew attention from social media users who felt the White House adviser wasn't properly dressed for the occasion, according to MSN.com.
One user, who said she was "no prude," couldn't help but feel the outfit was inappropriate.
Another user wrote the outfit was "not an outfit worn by a serious professional woman."
In February 2017, Trump was criticized for a burgundy dress she wore to her father's first address to Congress. Many deemed it as an inappropriate selection for such a momentous event.
Even when Trump went with safe options from her own brand, like during a picnic at the White House in June 2017, social media users said the off-the-shoulder dress she chose to wear made her appear "half naked," according to AOL.com. (Although others thought the dress was perfectly appropriate for a casual outdoor event.)
And we can't forget about the controversy that stemmed from her trip to Saudi Arabia, either. On May 20, 2017, Trump, along with her step-mother, Melania, decided to skip out on covering her head during their visit, according to NBC. The country has a strict dress code, requiring women to wear long, black robes called "abayas," and headscarves known as "niqabs," however, Trump decided to pass on the tradition, causing an uproar among residents of the territory.
This time, Trump nailed her look, and at this point, we have all the validation we need to say that she's one of the most fashion-forward political figures we've ever seen. I'm not sure what event she'll attend next, but with just three months until April, I'm interested to see what festive look she wears to the White House's annual Easter Egg Hunt.