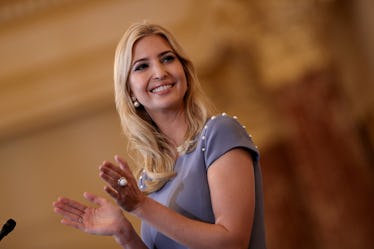 Ivanka Trump's Fashion Is More Important Than You Think, & It Could Cause Trouble
Win McNamee/Getty Images News/Getty Images
What you wear really does matter. At least, if you're the president's daughter. A new report shows that Ivanka Trump's fashion choices are significant, thanks to the fact that she's often donning pieces from her own eponymous fashion line. The revelation is the latest in a long history of scrutiny of Donald Trump and his family's business connections and wealth.
An investigation in The Wall Street Journal published on Dec. 27 found that in 46 of 68 social media photos in 2017, between when she officially became an adviser in March and October, Trump was sporting her own brand's clothing. That may not seem like a big deal, but Trump wearing her own items is calling into question federal rules around promotion. Under the law, public office holders are prohibited from using their position to promote brands from which they benefit; executive branch employees are similarly prohibited from endorsing products, people, or companies.
It appears that there may be some impact on business when Trump wears her clothes publicly. As was pointed out on CNN's New Day on Tuesday, Trump wore her brand's cold shoulder sweater dress at a NASA event on Dec. 11. That dress then sold out on the Macy's website.
Trump told the Journal in an email statement that, "If what motivated me was to grow my businesses and make money, I would have stayed in New York and done just that."
Guian McKee, an associate professor of presidential studies at the University of Virginia, told the Journal, "Ivanka Trump is testing the boundaries on federal rules that bar government employees from using their position to promote brands that personally enrich them."
Walter Shaub, former government ethics chief under President Obama, called Trump's habit of showing off her own brand at political events the "international definition of corruption" on New Day, per Newsweek.
"The reality is that the core principle of the ethics program is that you're not supposed to misuse your government position for private gain," said Shaub, the former director of the Office of Government Ethics. "This is the principle that George H. W. Bush founded as the cornerstone of the ethics program."
Per the Journal, Trump's fashion choices are "feeding a publicity machine," essentially providing free advertising for her own brand, especially as the media covers what she wears — like other celebrities and public figures. The Daily Mail, as the Journal reports, helped promote Trump's fashion in an article about her outfit choice in June through affiliate links — promotional links to products or websites that give a kickback or sales percentage to the site.
Per Fortune, Trump's self-titled fashion line is in a trust, and she's not actively heading the day-to-day operations of the company. (Relatives of her husband, Jared Kushner, are currently running the show.) Still, her father's presidency seems to have help set records for her business; she made $12.7 million between early 2016 and July 2017, with about half of that coming from her clothing brand. (The rest of the revenue came from her stakes and salaries in the Trump Organization, Trump International Hotel, and other real estate companies.) Together, thanks to Kushner's updated financial disclosures, The New York Times reports, the couple raked in more than $212 million in that same time with a net worth of $761 million.
CNN Money correspondent Cristina Alesci said on New Day that Trump simply wearing her own brand is probably not enough to qualify as against the rules, whereas an overt marketing tactic of her clothing brand would. (She did exactly that after her speech for the Republican National Committee in 2016.)
The boost of promotion from affiliate links and Instagram photos helped balance out the Trump brand after the negative publicity it received in 2017 following aWashington Post exposé that revealed manufacturing practices in Asian garment factories.
The Trump brand has been particularly controversial since the campaign leading up to the 2016 election. While some women began boycotting the first daughter's clothes with the Grab Your Wallet movement in fall of 2016, others began embracing Trump's fashion line as a political statement, the Post reports.
One source told the Journal that Trump wearing her own brand probably isn't making or breaking buyer decisions. "For those people who see her as someone to look up to and who like her style, then wearing her clothes helps the brand," said Wendy Liebmann, chief executive of WSL Strategic Retail. "If you don't like her, you're not going to buy her clothes, whether she wears them or not."
Still, Shaub says Trump is dangerously close to an ethics violation by profiting off her clothing line while serving as a presidential adviser.
In December 2017, Trump also opened her first store in New York City's Trump Tower, Bloomberg reports. Richard Painter, the former chief White House ethics lawyer under President George W. Bush, told The Washington Post that the store opening was "another in a long line of conflicts of interests. He added, "By selling directly to die-hard Trump supporters, who are already hanging out at Trump Tower, she gets to pocket even higher [profit] margins."
It remains unclear whether anything will push Trump to change her fashion habits, or if she's legally vulnerable. But her attire has at the least drawn attention, for better or worse.