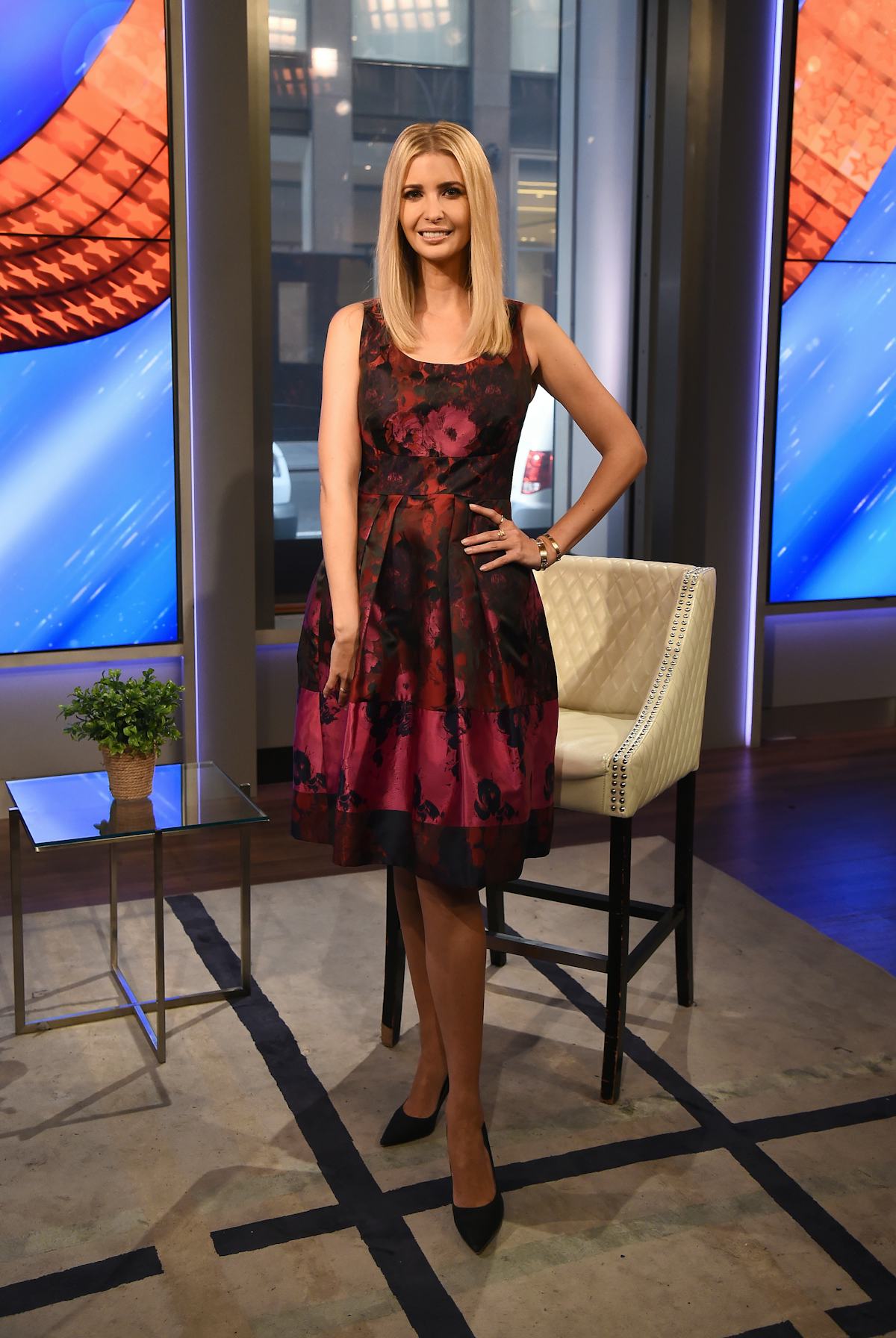 Ivanka Trump Tried Following Michelle Obama's Lead With Her India Trip Fashion Choices
Ilya S. Savenok/Getty Images Entertainment/Getty Images
Ivanka Trump, the president's daughter and trusted adviser, has been busy crusading for female empowerment in India while she represented the United States at the eighth annual Global Entrepreneurship Summit (GES). Trump has pressed women's issues and equality as part of her political legacy, and spoke about said topics at the summit. Despite being well-received by the people of Hyderabad, the southern city that hosted the summit, people have concluded that Ivanka Trump's fashion choices in India sent mixed messages.
While visiting other countries on diplomatic terms, it is expected that all eyes are on the first lady's (or, in this case, first daughter's) fashion choices, and whether or not they pay respect to the country they are in. Former First Lady Michelle Obama was conscious in her fashion choices while visiting countries like India or hosting visitors from other counties, for instance, and people noticed. Obama often wore designers from the countries she was visiting or hosting as a way to honor the nations. But for Trump in her India trip, although she made some intentional strides to pay homage to Indian culture, she just missed the mark a bit.
On the first day of her visit, Trump sported the Tory Burch "Sylvia" jacket, which is black with elegant pearls embroidered. This was a conscious choice, as it seemed to be a nod to Hyderabad historically being known as "the city of pearls," as Vanessa Friedman pointed out for The New York Times. On day two, Trump wore a green, decorated Erdem (a Canadian and Turkish fashion designer) dress that looked similar to a traditional Indian anarkali style dress.
Later that day, she changed into a second outfit that happened to be another Tory Burch dress. The Burch dress was navy with gold embroidery, long sleeves, and a round neck, which again imitated similar traditional Indian dresses. However, people speculated earlier about her possibly wearing a sari gown made special by Indian designer Neeta Lulla, which did not happen. A spokeswoman for Lulla told The New York Times that the sari gown had been made as a welcome gesture to Trump, if she wanted it.
The closest Trump got to the heart of Indian design was on Wednesday, when she wore a red, floral dress designed by London-based designer Saloni Lodha, who is originally from Bombay. Despite her heritage, however, she doesn't specifically design Indian clothing.
Aside from Trump's fashion choices, people were raising eyebrows about her mission for female empowerment and equality, while allegedly paying employees, some from India, low wages at her company, Ivanka Trump.
Part of the criticism towards Trump comes from a comparison to Obama's outfit during her January 2015 trip to India which was designed by Bibhu Mohapatra, an Indian designer from Rourkela, India. Obama was praised for representing an Indian designer, whom now resides in New York, rather than wearing something that looks Indian from an American designer. See the difference?
Bandana Tewari, the editor at large of Vogue India commented on Trump's wardrobe saying it was a "superfluous nod to half-acceptance." She was getting at the half-attempted acknowledgement of Indian culture. Instead of wearing something made in India, by the hands of someone who embodies Indian culture, she half-way attempted to showcase their culture without crediting them.
Tewari might be on to something. While Trump did make a deliberate effort to assimilate and reflect Indian designs and fabrics, she also made a conscious choice to wear clothes from designers who are not Indian. While Tory Burch can replicate a sari to the best of her ability, Tory Burch is not immersed in Indian culture and has never lived the Indian experience. There is a fine, but evident line between cultural appropriation and dressing "culturally appropriate." And while Trump was riding the line ever-so-slightly, to endorse and support an Indian designer in India is the most appropriate way to respect their culture.