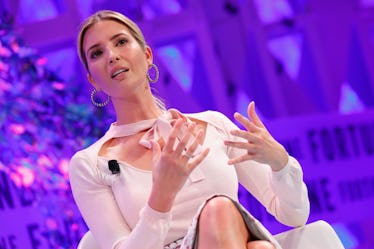 Ivanka Trump Recycled Parts Of Her India Women's Empowerment Speech, So That's Inspiring
Paul Morigi/Getty Images Entertainment/Getty Images
Ivanka Trump's highly anticipated speech at the two-day Global Entrepreneurship Summit (GES) in Hyderabad, India, on Nov. 28 took an unexpected turn after people realized Trump recycled parts of her women's empowerment speech from an earlier speech she gave in Tokyo. Trump has been making the rounds promoting her political agenda for women's issues and her World Bank initiative to focus funds on women's empowerment. Accompanied by Japanese Prime Minister Shinzo Abe on Nov. 3, Trump gave a speech at the World Assembly for Women in Tokyo, and upon closer look, there's a bit of an overlap of words. After numerous speeches on women's rights, it seems her speechwriters couldn't come up with new ways to talk about it.
Sections of her speech given in Hyderabad sounded almost identical to her Tokyo speech. For example, Trump said in India,
After my father's election, I saw an opportunity to leave my businesses for the privilege of serving our country and empowering all Americans, including women, to succeed. Our administration is advancing policies that enable women to pursue their careers and care for their families, policies that improve workforce development and skills training, and policies that lift government barriers and fuel entrepreneurship so that Americans can turn their dreams into their incredible legacies.
During her speech in Japan, meanwhile, she said:
That is why after my father's election, I decided to leave my businesses and work in government to advance policies and initiatives that empower women to fully participate in the economy, if they so choose. Policies that enable women to pursue their careers and care for their families, policies that focus on workforce development and skills training, and policies that fuel entrepreneurship so that Americans can turn their aspirations into their incredible legacy.
At another part of her speech given in Hyderabad, Trump recycled her Tokyo speech verbatim, saying, "When women work, it creates a unique multiplier effect. Women are more likely than men to hire other women, and to give them access to capital, mentorship and networks."
Of course, Trump's India speech was not entirely recycled from the Japan speech and was well-received by the audience, according to Quartz India. Trump won the crowd over in India by making specific references to Hyderabad, describing it as, "this ancient city brimming with transformative technology. Now, your tech centers may even outshine your world-famous biryani." Trump went on to say, in reference to Hyderabad, "In this 'City of Pearls,' the greatest treasure is you-the dreamers, innovators, entrepreneurs, and leaders who never give up." Trump also mentioned personal details of Prime Minister Narendra Modi's childhood and praised Hyderabad for its cuisine, according to Quartz India.
Trump focused her speech on U.S. initiatives for women and, of course, detailed her own personal strides and efforts, which was in line with the summit's theme, "Women First, Prosperity for All." However, with 1,500 Indian entrepreneurs in the room, many were waiting to hear Trump speak about the United States' stance on entrepreneurship with India. According to Quartz India, Trump failed to discuss anything related to the United States working with Indian entrepreneurs or providing mentorship.
Despite her recycled phrases and missing the marker on entrepreneurship, Trump seemed to play the right cards by sprinkling her speech with local praises of Hyderabad's culture. Before her arrival, the city of Hyderabad sped up work on rebuilding the market around its historic mosque, Charminar, as Trump was expected to sightsee parts of the city. Officers also started getting beggars off the streets and into shelters and dormitories, catering to guests of the summit.
Prime Minister Modi excitedly anticipated Trump's visit with a message on Twitter. Modi tweeted on Nov. 15, "We look forward to welcoming you @IvankaTrump. Closer economic cooperation between India and USA helps our people, particularly our talented and innovative entrepreneurs."
It's no surprise that Trump has been received with open arms and is apparently well-liked in India and Tokyo. Aside from her well-played diplomacy and amiability, she is a beautiful and powerful leader who has made women's empowerment her spoken cross to bear. One Hyderabad local, Irfana Begum, spoke positively about Trump to reporters while awaiting her visit, according to ABC News. "She's so confident and beautiful. Her father is the president. She's like a queen," Begum said.
While visiting Tokyo, Trump was also thought of as queen-like by the public. Mieko Nakabayashi, a professor of politics at Waseda University in Tokyo told The New York Times, "She's not just an official, but also a princess of the president. So that kind of celebrity is really liked in Japan."
With Trump's reputation being as distinguished as it is, it's likely that the recycled parts of her speech will not affect India's opinion of her and will be overlooked.