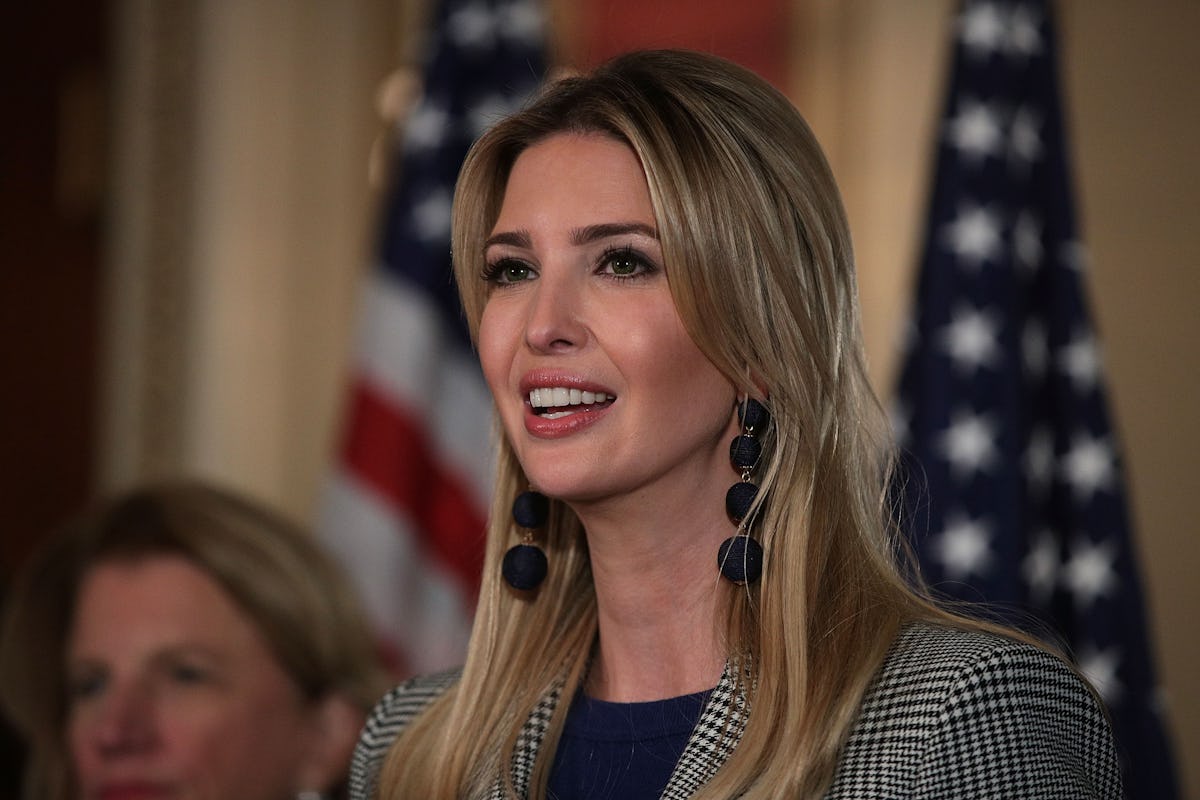 Ivanka Trump Apparently Likes Her Own Photos On Instagram, & It's Kind Of Hilarious
Alex Wong/Getty Images News/Getty Images
If you're an avid Instagram user there's a strong chance that you've liked your own post a time or two. Maybe you double-tapped by accident. Or maybe you didn't — I'm not here to judge! Personally if I notice someone I follow liked their own post I don't even have time to think twice about it, because before you know it I'm onto the next and infinitely scrolling to my heart's content. But is seems as though when a celebrity "hearts" their own posts, people seem to take notice. As it turns out, Ivanka Trump likes her own Instagram posts. But we've all done it, so what's the big deal really?
Huffington Post reporter Ashley Feinberg first shared screenshots of Trump going on a liking spree on Instagram on Jan. 21, double-tapping photos that showed her alone or with her family. Feinberg jokingly wrote in her caption "busy night," taking a jab at Trump, who is currently serving as a White House adviser to her father, President Donald Trump.
To be fair, none of the posts that she's liked come from Trump's personal account. They all seem to be Ivanka Trump "fan accounts" that celebrate her style or just her public persona in general. So while I'm sure Trump appreciates the love she's getting from these accounts (wouldn't we all?), does she really need to go out of her way to like these posts?
Feinberg does make a legitimate criticism here. The first daughter is working in the White House for crying out loud, and aiding in leading the country under our current president. She is working in the highest office in the land. So I think that Trump has a lot more important tasks to handle, rather than indulging in some serious social media self-love.
One of those very tasks is reportedly playing a significant role in finding a replacement for John Kelly, the president's chief of staff, according to a Vanity Fair report from Jan. 22. The relationship between the president and Kelly has been on the rocks in the months since Kelly took over the position in July 2017, and Trump was reportedly furious after hearing that Kelly supposedly called his plan for a border wall "uninformed" on Jan. 17. The first daughter is reportedly very concerned about the prospect of replacing Kelly. "Ivanka is the most worried about it. She's trying to figure who replaces Kelly," a source told Vanity Fair.
So if Trump is that worried about replacing yet another White House employee in what I'm now officially dubbing the "You're fired!" administration, why in the world is she setting aside time to go look at fan Instagram accounts that she's been tagged in and like the pictures? I know actors and performers must go on liking sprees all the time, but their job is to entertain us. Trump's job is to help govern us. So yeah, I think there's a clear difference in profession here.
And here's another thing to think about regarding these likes — Trump has 4.2 million followers on Instagram. And these two accounts that shared the posts Trump liked have an approximate total of 24,700 followers combined. My grand total? I have exactly 640 followers and average far below that headcount in terms of likes per Insta post. I once noticed that a college friend of mine was liking her own posts a few years ago, and I asked her why, to which she replied, "If you don't like your own post, who else will?" What an ingenious point of view, I thought. So if I like my own post I am simply promoting myself, because in all honesty I can use the extra help.
My guess is that Trump (with her millions of followers) doesn't need that extra help, even if she isn't liking her own actual posts. I guess seeking out any positive attention one gets must be a trait that runs in this family.