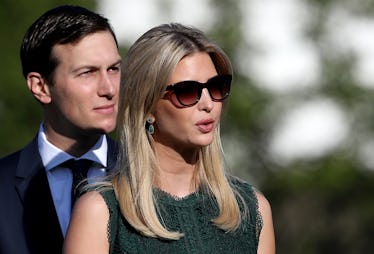 How To Make Ivanka Trump & Jared Kushner Costumes, Because Someone Has To Do It
Win McNamee/Getty Images News/Getty Images
So, 2017 has been a mess, and you can either completely ignore that fact during Halloween this year, or dive head first into it. For all you brave souls who are willing to embrace the sh*tstorm that was this year, boy, do I have some topical costumes for you. You can go down the obvious Donald Trump route, veer down Sean Spicer road, or grab a friend and put together some Ivanka Trump and Jared Kushner costumes. Because, you know, someone has to do it.
Ivanka Trump and Jared Kushner: The Early Years
Ah, remember the days when Ivanka and Jared were just that shiny, young, rich couple who hobnobbed with other New York socialites? It was right around the time when Donald Trump appearing in Sex and the City and Home Alone 2 was considered kind of funny and quaint.
We'll call it the innocent era of the Trump/Kushner relationship.
The younger Ivanka was less of the refined, powder-pink dress wearing, bone-straight hair having, Trump that we know today. Her fashion sense was a little glitzier, a little shinier, and a little more Upper West Side party girl.
For reference, check her out in this cameo on Gossip Girl. Yes, that was actually a thing — evidence below.
You're going to want to go full early 2000s with this one. Bring on the eyeshadow. Bring on the formfitting, shiny, shiny, silver dress. Think Serena van der Woodsen... a couple of years down the line. Think Blair Waldorf's entire headband collection. Walk around all night referencing things that haven't been cool since 2007, and asking if anyone's seen your very cool, very hip friends Blair and Serena.
For Ivanka: Shiny metallic dress, $54.99, H&M| "Diamond" chandelier earrings, $8.90, Forever21 | Long blond wig $26.99, Party City
For Jared: A black suit (Jacket, $69.99 and pants, $34.99, H&M) a red tie, and an awkward expression.
Ivanka Trump and Jared Kushner: Creepy Edition
Remember when that super Children of the Corn picture came out of Ivanka, Eric Trump, and Donald Trump Jr.? They were all looking at the camera in what was maybe supposed to be a cute sibling shot, but instead came across like they had maybe just landed on Earth from another planet and were demanding to be taken to our leader? Well, grab two faux siblings and a Jared, and really nail down the zombie-Trump look.
For reference:
As Ivanka, you're going to want to really embrace the Stepford housewife look. Some pearls, that powder-pink dress, and some shiny, shiny hair. Only add some white, creepy powder and under-the-eye shadow for a subtle undead look (maybe check out Taylor Swift's "Look What You Made Me Do" for reference). As Jared, well, just put on a suit (see above) and embrace that dead-behind-the-eyes expression.
Print out the above photo (as close to life-size as possible), cut out the faces of Eric and Don Jr., and put them on a cardboard backing to carry around with you, and every time someone asks for a photo, hold up your pair of sibs/in-laws and stare into the camera with dead eyes.
Pink dress, $48, Forever 21 | Long blond wig $26.99, Party City | A black suit (Jacket, $69.99 and pants, $34.99, H&M) | Poster board, $6.99, Staples | Black & White Makeup Kit, $2.99 Party City
Ivanka Trump and Jared Kushner: "But His/Her Emails!" Edition
So, in probably the most ironic twist possible, it turns out that Ivanka and Jared both used a public email address to send government emails. If you want to fully embrace the ridiculousness of this, why not put together a costume for Ivanka and Jared: Email Edition?
This one is pretty simple. Don the usual first daughter and first son-in-law attire: floral, crisp dress and stiff black suit. Then print out a ton of emails and pin them all over your costume.
Allow people to yell "But her emails!" at you. Maybe even a chorus of "Lock her up!" as well. It'll be cathartic for everyone.
Floral print dress, $12, Forever21 | A black suit (Jacket, $69.99 and pants, $34.99, H&M) | Printer paper, $6.99, Staples | Safety pins, $5.99, Staples
Remember: Scary is what you make it, especially in 2017. Happy Halloween!