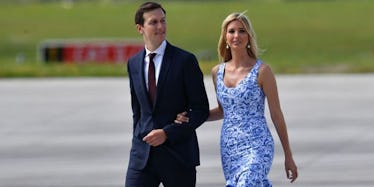 Ivanka And Jared's Private Email Use Is Being Investigated By The White House
BERND VON JUTRCZENKA/AFP/Getty Images
On Sunday, Sept. 24, Politico reported that Ivanka Trump and Jared Kushner have both used private email accounts in the past to communicate with other members of President Donald Trump's administration. Predictably, the news prompted a response resentful response from former Hillary Clinton, who was repeatedly criticized by President Trump during the 2016 election campaign for her own private email use. Now, days later, the Politico is reporting that Ivanka Trump and Jared Kushner's private email use are now the subject of an internal probe by the White House. The report states that the probe could take either weeks or months and will involve the administration's legal team reviewing messages from the White House server that were sent to and from private email accounts.
In its initial report, Politico noted that Kushner and Ivanka Trump weren't the only ones who have used emails to conduct government business. In total, six senior aides within President Trump's administration are reported to have used private emails during their time at the White House.
In a statement provided to multiple outlets, Abbe Lowell, a lawyer of Jared Kushner's, explained his client's reasons for using a private email domain rather than a government-issued account.
Mr. Kushner uses his White House email address to conduct White House business. Fewer than a hundred emails from January through August were either sent to or returned by Mr. Kushner to colleagues in the White House from his personal email account. These usually forwarded news articles or political commentary and most often occurred when someone initiated the exchange by sending an email to his personal, rather than his White House, address. All nonpersonal emails were forwarded to his official address and all have been preserved in any event.
According to Politico, the White House's probe will focus on whether or not any of the private emails were related to the multitude of Russia-related investigations being conducted by Congress and the FBI.
Hillary Clinton's Response
Unsurprisingly, former Secretary of State Hillary Clinton had a few choice words for reports of White House aides using private emails to conduct government business.
During an interview on SiriusXM radio, Clinton railed against both the Trump administration and the Republican party. Clinton said,
The hypocrisy of this administration, who knew there was no real scandal, who knew that there was no basis for all their hyperventilating. Republican members of Congress who politicized the deaths in Benghazi. No, we're finding with the latest revelations, they didn't mean any of it. It's just the height of hypocrisy.
She also added during the interview,
It is something that if they were sincere about, I think you'd have Republican members of Congress calling for an investigation. I haven't heard that yet.
How The Two Cases Compare
That Clinton would accuse Republicans of hypocrisy is no surprise, given how often she was scrutinized for her use of a private email server during her time serving under former President Barack Obama. But the difference between Clinton's private email use and that of Trump administration officials appears to be Clinton's use of a private server while discussing matters of national security, which the Washington Post's Aaron Blake points out.
In a July 2016 letter that essentially exonerated Clinton of any wrongdoing, former FBI Director James Comey said that it was that handling of classified information that Clinton was investigated for.
Comey wrote,
Our investigation looked at whether there is evidence that classified information was improperly stored or transmitted on that personal system in violation of a federal statute that makes it a felony to mishandle classified information either intentionally or in a grossly negligent way.
Until it's discovered that Ivanka Trump and Jared Kushner discussed highly sensitive matters -- or are at least suspected of doing so -- their use of private emails and Clinton's own use probably won't attract many comparisons.