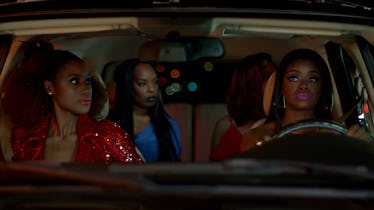 Issa Rae's New Video With CoverGirl Isn't Afraid To Throw Shade, In The Best Way — EXCLUSIVE
CoverGirl
If you're in need of a major mood boost, look no further than a certain brand new beauty advertisement, which just dropped today and is guaranteed to elicit some serious good laughs. Issa Rae's CoverGirl campaign video, which was just released in support of the brand's new Exhibitionist lipstick collection, feels more like a clip from Insecure than it does a marketing strategy. It should come as no surprise really, seeing it was co-created by the comedic genius that is Rae herself.
If you're also an avid watcher of Insecure, the HBO comedy-drama series created and starred in by Rae, then the CoverGirl campaign clip might remind you of a specific scene from season one of the show. It's that iconic mirror scene in which Rae tries on a variety of lipstick shades including a purple, a red, and a black, with each one resulting in her transforming into a different persona. Except in the new campaign video it's not just Rae trying on different shades. Rather, it features Rae and three of her real-life best friends (who are also expectedly hilarious) applying different Exhibitionist shades en route to a big night out, all while "throwing shade" at one another for their lipstick selections as only best friends can do. As Rae puts it, "Your friends should be the ones to tell you whether or not you're looking like a hot sh*tty mess. If they don't, then they're not your friends."
"The film serves as an invitation for all women to confidently own their shade choices without explanation — even if your friends disagree or people stare," explains CoverGirl in a press release. "...let them stare! There are no rules when it comes to makeup, and 'Shade for Shade' serves to celebrate all of the bold (or subtle) lipstick choices that make you feel like your best you."
Ironically, the shades that Rae and her friends test out in the video are nearly identical to those Rae applies in the Insecure scene, despite the fact that Exhibitionist collection includes a whopping 48 lipsticks, which come in demi-matte, metallic and cream finishes. One friend applies a subtle nude called Coffee Crave, another opts for an edgy black hue called Don't Tell, and the third goes for a metallic purple called Steal. "Rae chooses a metallic red called Ready Or Not, which happens to be a favorite of the actress IRL.
"I love that lipsticks give me alter egos. There's something about the confidence that different shades can bring," she tells Elite Daily. "If I'm going to wear a black, that is for a very specific special occasion. That's my don't-f*ck-with me color. When I'm wearing a really bold red or a shimmery red then I'm ready to get into some action. And there is a regal nature about wearing a purple shade, whereas a nude is just really an everyday shade," she continues. "I definitely attribute colors to different personalities and I love that."
CoverGirl's genuine desire to let all of Rae's personalities shine through as one of their ambassadors is what ultimately drew the actress to work with the brand. "I love the fact that they empower authenticity and they really do listen to what their consumer base wants," she explains. "I don't consider myself the face of beauty by any means but CoverGirl is committed to empowering the everyday woman. There's a current commitment within the beauty and fashion and entertainment industries to getting the real and getting the raw — I don't know where we go from there. We're just going to get realer and realer."
Speaking of real, Rae's favorite drugstore beauty product (aside from CoverGirl's offerings, of course) is about as affordable and accessible at it gets. "Honestly, I'm real basic, I love Vaseline," she reveals. "Their lotion is on-point." She'll also grab "a good cheap face mask with African black soap" whenever possible and, like us all, loves a good freebie.
While Rae has been fearless in trying out various lip shades, she admits that she's played it relatively safe with her beauty look as a whole. "I really do wanna try a light hair color but I'm scared," she explains. "I wanna see what I look like in different shades. In the last five years I've experimented with different kinds of browns but I want a radical change. I might do it next year — maybe."
The sooner we get to meet a new Rae persona, the better. Bring on the blonde!