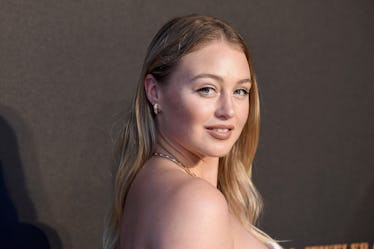 This $8 Hair Dye Gave Iskra Lawrence The Most Gorgeous Rose Gold Hair Color
Nicholas Hunt/Getty Images Entertainment/Getty Images
Each year, the most luxe fashion and beauty looks take to the red carpet of the Cannes Film Festival and serve as major inspiration for what will be trendy the rest of the year. Case in point: Iskra Lawrence's rose gold hair, which the model debuted one day ago at the glamorous event and is bound to inspire a slew of dusty pink dye jobs on influencers, models, celebs, and beyond. Considering flowery hues and all things metallic have been all the rage as of late, Lawrence's rose gold hair couldn't have made a more timely entrance. Or a more beautiful one, either.
Up until now, Lawrence has rocked sun-bleached beach babe blonde hair. And while the hue looks killer on the model, it's fun to see her look change a bit since it's been pretty stagnant since she started her career. You might know Lawrence best from her work with Aerie — she's a global 'Role Model' for the brand and has appeared in a number of their campaigns. A staunch body positivity advocate, she insists on her images not being photoshopped and is outspoken about the need for inclusivity and body acceptance within the fashion industry. Lawrence has also appeared in the documentary Straight Curve; has walked for New York fashion brand, Chromat; has walked at Paris Fashion Week for L'Oréal; and appeared on Maxim's 'HOT 100' list for 2017. In short, she's a total badass beauty who is changing the fashion world (and beyond!) for good, which is why it's so rad to see her lighting up her first-ever Cannes Film Festival with a killer new look.
Lawrence revealed her new hair color yesterday on Instagram with a photo of her in a gorgeous navy Terani Couture gown. "My new #RoseGoldHair for Cannes," she captioned the photos, going on the explain that the color had been achieved by using L'Oréal Préférence Infinia in Rose Gold shade 8.23. Yes, that's right, Lawrence's new shade was achieved via boxed hair due, so we can all go home now and cry into the receipt from our most recent $200+ hair appointment. As described by L'Oréal on their website, "Préférence Infinia gives you up to 8 weeks of fade-defiant colour. Featuring for the first time a Colour Extender, which revives the look of day 1 colour with each application for lustrous shine. It also provides up to 100% grey coverage. Give your hair show-stopping, intense colour."
If you're looking for a semi-permanent way to go pink, this hue might be for you. But if you, like me, would prefer to test out the color in a decidedly non-permanent way before you jump into committing to it for two months, try Kristin Ess' Rose Gold Temporary Tint ($12, Target), which will wash out after one-to-three shampoos. Lucy Hale tested out the product for Coachella and it looked ethereal and lovely and straight up enviable.
Following Lawrence's initial reveal post, the model uploaded another photo to Instagram referencing her new hair. "All your comments on my new hair 😭😭😭 i love u sm❤️Thank you!" wrote the model. "I shared how I went Rose gold on my story and linked the colour - for those asking hopefully it will last about a month (unless I have to change it back for work) So excited for you to see my next red carpet dress tomorrow 😬😬😬."
Naturally, her "next red carpet dress" was stunning and brought out her new hair color even better. She uploaded a photo of herself in the design, which was an ivory beaded gown by Justin Alexander, hours later, which also showed her new air curled into glam waves. She looks every part the gorgeous star she is and will undoubtedly by one of summer 2018's biggest beauty trendsetters.