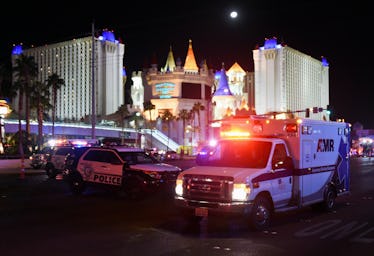 ISIS Claims Responsibility For Deadly Las Vegas Shooting, But Offers No Proof
Ethan Miller/Getty Images News/Getty Images
On the evening of Oct. 1, America witnessed its most deadly mass shooting in modern history when a gunman opened fire on a country music festival in Las Vegas, Nevada. At least 50 people are reported dead. And though the motive behind the shooting is officially unknown, ISIS claimed responsibility for the attack in Las Vegas late Monday morning, though it offered no evidence to connect the shooter to the group, according to The Independent.
Update: Las Vegas Police Department Sheriff Joe Lombardo has confirmed that at least 58 people were killed and over 515 were injured in the shooting. The shooter has also been confirmed dead and is not believed to have a connection to any terrorist group.
Earlier: A spokesperson for the FBI said at a news conference on Monday morning that the alleged gunman had no connection to an international terrorist group.
An unverified statement published by ISIS propaganda agency Amaq claimed that the attacker had converted to Islam "several months ago," according to The Independent. The statement, which did not offer any details and did not provide evidence to support the claims, also referred to him as a "soldier of the Islamic State," who was responding to "calls to target coalition countries."
ISIS has made exaggerated or false claims of responsibility for such attacks before. The statement did not mention the alleged attacker by name.
Sheriff Joe Lombardo said that as of a 9 a.m. ET press conference, law enforcement had not found anything to suggest a motive, but that police did not currently regard the attack as domestic terrorism. He said,
We have to establish what his motivation is first. There is motiving factors associated with terrorism other than a distraught person just intending to cause mass casualty. Before we label with that it will be a matter of process.
Authorities currently believe the attacker to be a lone wolf, who had no known links to any terrorists groups, according to The Guardian. A spokesperson for the U.S. Department of Homeland Security said that there was no information to suggest a "specific credible threat" to other public venues.
The first reports of the shooting came at shortly after 10 p.m. local time, when a gunman opened fire on the Route 91 Harvest festival, a multi-day country music event near the Mandalay Bay Resort and Casino in Las Vegas. The shooter reportedly took aim at the crowd from a 32nd-story room in the hotel. At least 58 people have so far been confirmed dead and more than 500 injured. The lone suspect is believed to have killed himself after the shooting.
The attack is now the deadliest mass shooting in modern United States history, surpassing last summer's attack on the Pulse nightclub in Orlando, Florida. In that incident, 49 were killed and 58 others were injured.
In an address to the nation on Monday morning, President Donald Trump called the attack "an act of pure evil." He said,
In moments of tragedy and horror, America comes together as one. And it always has. We call upon the bonds that unite us, our faith, our family, and our shared values. We call upon the bonds of citizenship, the ties of community, and the comfort of our common humanity.
For those who wish to help, authorities in Nevada say that medical centers and services are in desperate need of blood.
Nevada Gov. Brian Sandoval said in a news conference, "We need blood, so if anybody could contribute blood, anybody in the Las Vegas area or locally could do that." For those who are close enough, Elite Daily has put together a guide on how to donate blood to Las Vegas shooting victims.
Unfortunately, if you're not nearby, blood donations won't last long enough to make it to where they're needed. But you can still help even if you're not local through acts like donating to relief efforts, including the Red Cross, or helping spread the word about how to find missing loved ones. When tragedy hits, any effort to help is meaningful.