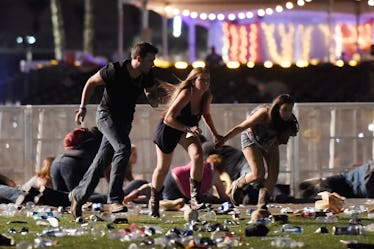 Here's How You Can Donate To The Victims Of The Las Vegas Shooting
David Becker/Getty Images News/Getty Images
On Sunday, Oct. 1, a gunman opened fire on the approximate 30,000 attendees of the Route 91 Harvest Festival at the Mandalay Bay Hotel and Casino in Las Vegas, Nevada. According to Las Vegas Police Department Sheriff Joe Lombardo, at least 58 people have been confirmed dead, with an additional 515 victims being treated for injuries. The shooter has also been confirmed dead and is not believed to have a connection to any terrorist group. As authorities continue to update us on the details regarding what is now being recognized as the deadliest mass shooting in U.S. history, people from around the world continue to send love and condolences to the victims and their families. Well wishes are greatly appreciated and positive vibes are essential to the healing process of such a great tragedy, but if you're wondering how to donate to Las Vegas shooting victims beyond social media, there are a number of ways you can do so immediately.
The Las Vegas shooting is unlike anything this country has seen before, but if I've learned anything over the past few years, it's that the best way to fight hate is with love. Now, more than ever, it is vital that the people of this country take action to support these victims and their loved ones. And that means logging off social media and diving head-first into real world initiatives aiming to cater to those affected. Here are a few ways to get started.
You Can Donate Blood
A statement was issued by the Las Vegas Metropolitan Police Department on Monday morning encouraging those currently in or close to the Las Vegas area to donate blood if they are able to do so.
United Blood Services, a non-profit organization that collects donations from volunteer donors, have stationed themselves at a number of locations, and have been taking donations since early Monday morning. The Huffington Post reports that people began lining up to donate hours before locations had even opened.
You Can Donate To The American Red Cross
Unfortunately, if you are not located in Las Vegas or in close proximity to the area, blood donations are not a viable option. However, if you would still like to donate to the cause, there are ways in which you can donate monetarily.
The Southern Nevada chapter of the American Red Cross is always accepting donations via its website, by phone (702-369-3674), and snail mail at 1771 East Flamingo Road, #206B, Las Vegas, Nevada, 89119.
You Can Donate To A GoFundMe Support Page
Crowdfunding pages are bound to be an excellent source of support for Las Vegas shooting victims, as these pages oftentimes go viral in times of need.
The official Las Vegas Victim's Fund was launched by Las Vegas Clark County Commission Chair Steve Sisolak this morning, Oct. 2, with a goal of $500,000. You can donate directly through the website, and spread the word by sharing across social media accounts.
You Can Donate To The National Compassion Fund
According to Newsweek, the National Compassion Fund "directly distributes donations from the public to victims of a mass crime," and is known for being completely transparent about where and what the money raised is going toward.
The fund is now accepting monetary donations via website or snail mail at 2000 M Street, NW, Suite 480 Washington, DC 20036 in support of the Las Vegas shooting victims. The website also ensures that 100 percent of the proceeds will be distributed among the victims for immediate and long-term assistance.
You Can Donate To Las Vegas Counseling Services
While the physical ailments of shooting victims may be pronounced, acknowledged, and nursed accordingly, it can be much more difficult to give proper aid to one's mental trauma.
The victims, loved ones, and eyewitnesses of the Las Vegas shooting need and are entitled to receiving proper medical attention, and this includes both physical and mental care. In order to ensure this is possible, you can donate to local counseling services, such as the Volunteers in Medicine of Southern Nevada, which is a nonprofit organization that assists patients without health insurance.
Amy Schmidt, executive director of Volunteers in Medicine of Southern Nevada, told The Las Vegas-Review Journal,
We're here to really help the people who are falling through the cracks. We like to refer to ourselves as the safety net below the safety net.
However you choose to donate and support the victims, it is important that we all do our respective parts to be these victims' safety nets.