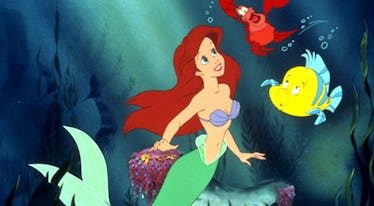 Don't Freak Out, But Disney's 'The Little Mermaid' Live-Action Movie May Have Its Ariel
Disney
Ariel is about to be part of our world in a live-action adaptation of Disney's The Little Mermaid, and the studio may have just landed the perfect person for the lead role: Zendaya! Yep — that's the rumor that is all over the internet right now, but is Zendaya playing Ariel in The Little Mermaid for real, or is it all just talk? According to a new rumor, Disney has already offered Zendaya the part, so we may get confirmation on this soon enough. Elite Daily reached out to Disney for comment on the rumor but did not hear back by the time of publication.
This rumor comes from the movie news site The Hashtag Show, which claimed that a source close to Disney said the production studio has offered Zendaya the lead role in its live-action adaptation of The Little Mermaid. Neither Disney or Zendaya have responded to this rumor yet, so we don't know anything for sure, but it is definitely an exciting concept.
Not only is Zendaya's movie star status on the rise thanks to blockbuster movies like Spider-Man: Homecoming and The Greatest Showman, but she is also a popular singer, which further makes her a good fit for the musical role of Ariel. Zendaya released one self-titled pop album in 2013, and showed off her singing chops again with her starring role in the big-screen musical The Greatest Showman.
Of course, the casting rumor is also notable because it would reimagine Ariel as a woman of color, rather than Caucasian-presenting as she appeared to be in the 1989 Disney cartoon. If the Zendaya casting proves true, then it would be a step in a progressive direction for Disney, since all of its first five Disney princesses (Snow White, Cinderella, Aurora, Ariel, and Belle) were drawn to be white. The studio has made strides in later films, creating more diverse princesses like Jasmine, Mulan, Pocahontas, Tiana, and Moana in films since then. As The Hashtag Show pointed out when reporting this rumor, the casting choice could also open up Ariel's father King Triton to be played by a black actor.
So far, nobody has been officially cast in the live-action Little Mermaid movie, although some big names have expressed their interest in it. Lindsay Lohan has posted to her Instagram multiple times that she wants to play Ariel in the live-action adaptation, and when Chris Evans was asked if he was interested in taking any Disney roles, he teased he'd be interested in playing Prince Eric. But for right now, the only rumor that has been gaining traction is Zendaya as Ariel.
Disney announced its intention to make a live-action version of The Little Mermaid back in the summer of 2016. Since then, it was confirmed that the animated movie's original composer Alan Menken would work with Broadway breakout Lin-Manuel Miranda to write new songs for the movie. Reportedly, Disney also wants Game of Thrones writer Jane Goldman to pen the screenplay, and Into the Woods director Rob Marshall to direct the movie.
Hopefully, we get some news about The Little Mermaid's casting soon, because it would be pretty cool for this Zendaya rumor to be confirmed!