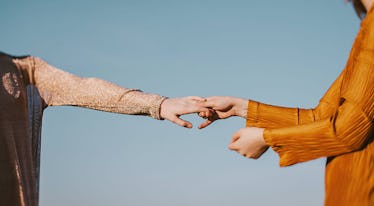 6 Signs Your Relationship Won't Last Through The End Of The Year
Maybe you just got into a new relationship, or maybe you've been dating someone for a while, but either way, you've found yourself feeling a little concerned about your future together, looking for signs your relationship won't last. It might be that you can feel your partner pulling away a little, or maybe your passion has been fading recently. It might even simply be that you just have this weird, nagging gut feeling deep down that something's off, and you don't even really know why. In any case, you want to know what to expect — or how to fix it, if possible.
In terms of fixing things, the biggest thing you can do when you feel like something's not quite right in your relationship is talk to your partner and make sure you're both on the same page. But what if you don't even know what to look out for, or can't quite place what your concerns really are? Along with the signs I already mentioned, there are other things to pay attention to that can help you figure out what's going on and prepare yourself — whether that's to broach the subject with your partner and try to fix things, or for your relationship to potentially end.
Here are six signs that your relationship might not last, according to dating and relationship experts.