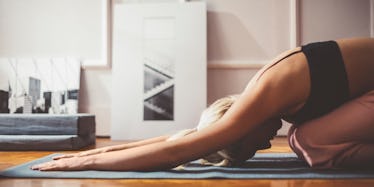 5 Tips For Working Out Before Bed So You're Not Too Hyped When You Finally Crawl Under The Covers
TBH, I will never ever be the type of person to wake up in the morning and start my day with a workout. Like, yeah, I'll get out of bed for a quality stack of pancakes, but a 9 a.m. cycling class? Hell nah. Still, I've always low-key wondered, is working out before bed good for you? If I'm being real, I'm not going to change my evening sweat sesh routine either way, but a girl's got to know.
First of all, exercising in general significantly improves your slumber, according to the National Sleep Foundation. But if you're specifically with me on that evening gym grind, we're in luck, because science says a little sweat before your snooze won't keep you awake by the time you crawl into bed. In a 2011 study from the Journal of Sleep Research, participants slept just as soundly on nights they worked out for 35 minutes as when they didn't exercise at all before going to sleep.
However, even though late-night #gains are totally acceptable, there are still a few things you should be cautious about. Here are five tips for sweating it out before you snooze so that you're not tossing and turning all night when it comes time to lay your head down.