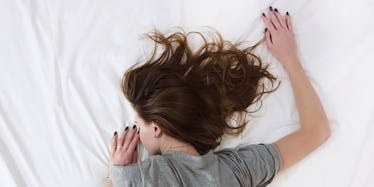 This 10-Minute Yoga Flow Is The Easiest Way To Melt Stress Away Before Going To Bed
You know when you're tired AF after the longest day ever, and sleep sounds like the sexiest thing in existence? But right when you get all cozy and ready for some quality shut-eye, your brain decides to perk the f*ck up and remind you of every single thing you've ever been stressed out about since, like, the fourth grade? Ah, good times. Don't worry though, because if you're frequently stressed before bed, a simple, soothing yoga flow could be the answer to your late-night anxiety.
Honestly, no matter how many deep breaths you take, sheep you count, or copious amounts of lavender you aggressively rub onto your temples, catching some Zs just seems downright impossible some nights.
But according to Mayo Clinic, adding just a few minutes of yoga to your nightly routine helps reduce stress, as well as lower your blood pressure and your heart rate — all which lead to totally blissful slumber.
Of course, stress is pretty much unavoidable, but that doesn't mean it has to interfere with your sleep schedule. As a yoga teacher, every time my brain goes into overdrive right when I hit the pillow, rolling out my mat and moving my body through gentle poses is always a surefire way to help me relax.
So, the next time stress is keeping you up at night, try flowing through this simple, 10-minute yoga sequence for total mind-body relaxation. Before you know it, you'll be out like a light.