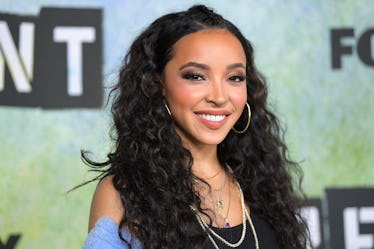 Tinashe's Dating History Has A Dramatic Connection To Kendall Jenner
Emma McIntyre/Getty Images Entertainment/Getty Images
Your favorite singer and favorite model share an ex. Tinashe appears to be single these days, though once upon a time, she was in a relationship with basketball player Ben Simmons shortly before he was rumored to date Kendall Jenner. She's also been linked to fellow musicians Calvin Harris and Ty Dolla $ign, but as of 2021, it seems as though the "2 On" songtress is living her best solo life.
Her only prominent relationship in the public eye was with Ben. While it's unclear exactly how or when these two became an item, by March 2018, they were trading flirty Instagram comments. That month, Tinashe told TMZ Sports that the Sixers star was her "boo thang," and the couple became Instagram official.
The romance was short-lived. By May 2018, the same month the couple broke up, the Rent Live alum claims she found out "in real time" about the NBA player moving on with Kendall.
"It may have been the worst day of my life, but it's OK," Tinashe later told Us Weekly in January 2020. She said the experience left her "really depressed."
When asked if she had a drink after discovering her ex's rumored new relationship, she quipped to Us Weekly, "I drank for, like, six months after that! Are you kidding me? I was, like, wasted for months. But I'm OK now." She continued, "It was terrible ... It was bad. Like, it was bad, but I'm good now."
Things reportedly got messy in July 2018, when Tinashe reportedly bumped into Ben and Kendall at Delilah, a club in West Hollywood, California. She claimed he texted her while inside with Kendall. "He's texting me," Tinashe told TMZ. "What the hell? What is he doing? What an idiot!"
After that incident, trolls accused Tinashe of stalking Ben and Kendall, prompting her to release a statement on Twitter. In a candid message about her love life, she cleared the air:
Listen, I usually never comment on things that are completely untrue and ridiculous, but this narrative has to end.. I'm not a character in some dumb storyline this is MY REAL LIFE. The fact is, I was in love, and I got hurt. I know I'm not the first nor will I be the last person to be in this situation. The details of what has happened since are complicated to say the least, but I've never lied. And of course I'm not a stalker lol.
Tinashe added she always tries to do the right thing and claimed people have taken advantage of her being a "sensitive" person before. She added the relatable sentiment, "I suck at most of this Hollywood sh*t" and said she is "not here to 'prove' anything to anyone at the end of the day."
Ben and Kendall appeared to date on and off from 2018 to early 2020, but then the story took another twist. In May 2020, two years after their breakup, Ben and Tinashe were spotted wearing matching necklaces. They haven't commented on their relationship status since 2018, so it's unclear exactly what's going on with these two.
Prior to Simmons, Tinashe was linked to Calvin Harris in 2016. The two had collaborated professionally in the past and Calvin reportedly gave her some advice about performing in Las Vegas. While fans were shipping Taylor Swift's ex with Tinashe at the time, she told E! News she was "definitely single."
Tinashe was also speculated to have dated Ty Dolla $ign at some point, though that was never confirmed. She did, however, collaborate with him and French Montana on her 2018 track "Me So Bad" which featured her and the two rappers getting nice and cozy in the music video.
All of this to say, Tinashe fans, your fave may just be single. That, or she's simply a boss at keeping her relationships on the down-low.
Editor's Note: This story has been updated.
This article was originally published on