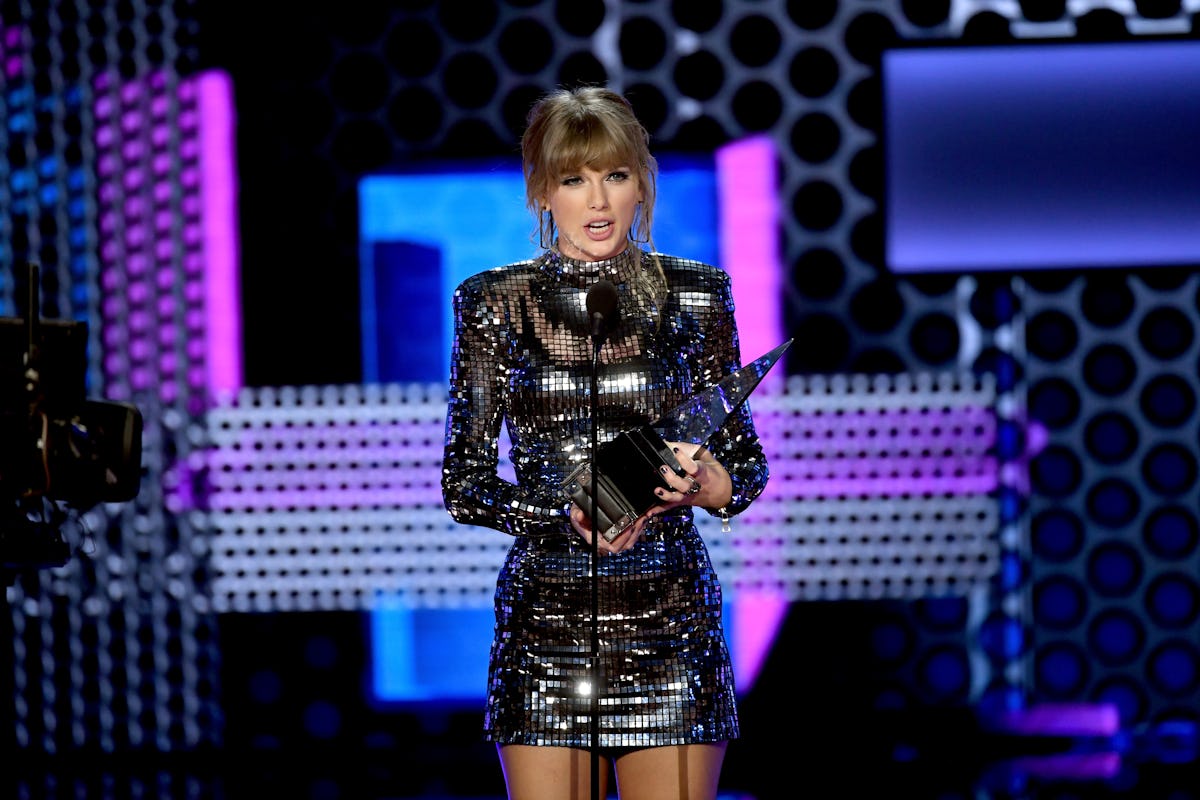 Fans Think Taylor Swift Just Hinted At A New Album In Her AMAs Speech
Kevin Winter/Getty Images Entertainment/Getty Images
Taylor Swift made history at the 2018 AMAs, and this time, it doesn't have anything to do with politics or snakes. With four nominations at the American Music Awards, she only needed three to become the most decorated female artist of all time. And she did just that. But that's not all that has fans excited. Her talk of a "next chapter" has them wondering if she's already moving on from Reputation to new music. Is Taylor Swift dropping another album? Fans are totally convinced she is. Elite Daily reached out to Swift's team for confirmation on whether she was hinting at another album but did not hear back by time of publication.
Here's what Taylor said in her speech while accepting Favorite Pop/Rock Album of the Year for Reputation:
I always look at albums as chapters in my life and to the fans, I'm so happy that you like this one. I'm so happy that this means that you like this one. But I have to be really honest with you about something: I'm even more excited about the next chapter.
Now, Taylor could be talking about her newfound political power that she discovered this weekend. A single Instagram post endorsing the democratic candidate for Senate in Tennessee caused a spike in voter registration in the state like nothing all year.
But fans are pretty sure that's not it.
Back during her country years, Swift was pretty much like clockwork about her album releases. Her eponymous album Taylor Swift came out in 2006. Fearless in 2008. Speak Now came in 2010, Red in 2012, and 1989 in 2014.
The three-year jump between 1989 and Reputation was an glitch in the machine that is Swift, if you will. If Swift goes back to her standard pattern, a new album should be coming in 2019, which is why fans are sure her quote was hinting at just that.
But what will the inspiration for her new album be? One of the more interesting facts Swift dropped at the AMAs as she picked up her second award of the night was that Reputation was the first time she built an album around a pre-chosen title instead of writing an album and then titling it from the overall theme. Is this a new way for Swift to work? Or, like the three-year gap, will that, too, be an outlier?
The fact is, this entire weekend has felt like a reset for the Taylor Swift brand. Her speaking out politically for the first time was a significant step forward for her. Her tour is drawing to a close, leaving her a little at loose ends as she figures out what to do next. Having a new album to focus on and begin the buildup to promotion would be exactly the sort of thing to keep Swift busy over the next few months.
Until then, Swift can bask in knowing she's broken the record for most wins by a female artist ever at the American Music Awards, and plan her next move in global domination.