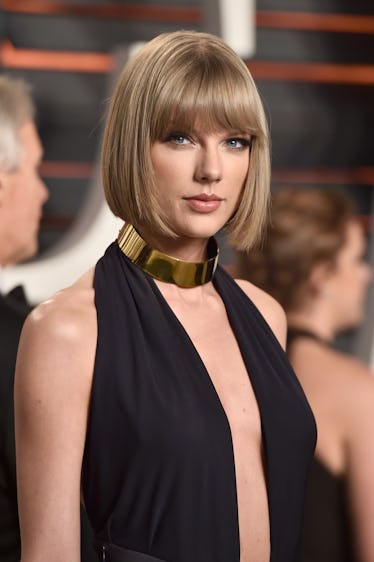 Taylor Swift Wasn't At The VMAs, But Twitter Trolled Her Anyway
Pascal Le Segretain/Getty Images Entertainment/Getty Images
Taylor Swift is one of the greatest icons in the music industry. So it's only natural that fans expect her to show up at every awards show she possibly can. She's almost always nominated, anyway. Now that the VMAs are here, everyone's asking themselves one question: Is Taylor Swift at the 2018 VMAs? Unfortunately for all the fans out there, Swift didn't actually show up to the awards show — but Twitter still had a whole lot to say.
Since Swift was basically shut out of all the major VMA categories, some people were expecting her not to show up. But Swift has a long history with the awards ceremony, and she's been handsomely rewarded over the years. Not to mention, there was that whole Kanye West fiasco almost a decade ago that catapulted Swift into the mainstream like never before. So, for her to be snubbed by the very awards ceremony that made her a household name has to hurt, at least a little bit. Thankfully, Swift is a trooper and decided this year to just stay home.
Despite this, though, her fans are incredibly upset that her video for "Look What You Made Me Do" was left out of all the major VMA categories like Video of the Year, Artist of the Year, and Song of the Year. However, all hope is not lost in terms of potential VMA wins. "Look What You Made Me Do" is nominated in three technical categories: Best Art Direction, Best Visual Effects, and Best Editing. So, there's still a chance that Swift and her team could swarm the stage and walk away with a Moonman.
Even so, Swift fans are not happy, and they've taken to social media to express their dismay, in spite of the fact that their fave appears to be taking it all in stride.
Other people are just straight-up trolling Swift for not showing up:
And they're doing it in all languages:
Despite all the trolling happening on Twitter, it's been tough for fans to accept that Swift just isn't the VMA sweetheart she once was. But even that doesn't diminish her talent or the quality of work she produces. Not by a long shot.
"Look What You Made Me Do" hit number one on the Billboard Hot 100 a week after it was released in 2017. It even knocked "Despacito" (the Luis Fonsi, Daddy Yankee, and Justin Bieber collab) off the top spot. On top of all that, Swift's song had the highest weekly streaming and sales for a song in 2017. And if that's not enough, "Look What You Made Me Do" also broke the record for most weekly streams for a song by a woman.
So, whether Swift's video wins a VMA or not, she's doing just fine. There's literally nothing to complain about here and, in the grand scheme of things, a VMA isn't going to change anything. Whether she wins anything or not, she's a legend, pure and simple.