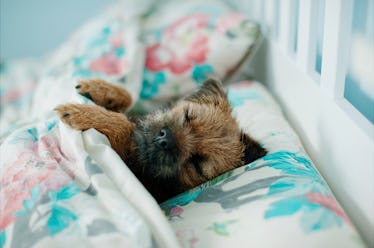 Cuddling Up With Your Dog At Night Actually Doesn't Ruin Your Sleep, So Snuggle Away
If you're the proud owner of a pup, there's a good chance you want your furry friend around at all times throughout the day — which is understandable, since dogs are human's best friends and all, and having a pet can be good for your well-being. That being said, while taking your dog on long walks and petting their darling head while you watch TV is always a good idea, sleeping with your dog in your bed seems like it could potentially disrupt your rest, and it may even be a little on the germ-y side. So, should you do it?
Well, as it turns out, sleeping with your pooch in your bedroom isn't a totally bad idea, despite what some online pet communities might say. For instance, results of a 2017 study published in the Mayo Clinic Proceedings journal showed that people who slept with a dog in their bedroom were able to maintain good sleep. Ultimately, though, it did depend on the position of the dog in the room, and how often they moved about. The study included 40 adults, who all slept either with a dog actually in their bed, or just in their bedroom.
In the study, which was conducted over the course of a week, the participants and their dogs wore devices that tracked their motion. For each night they were tracked, people then answered questions about both the quality of their sleep each night, and where their dogs were during the night.
The study concluded that sleeping with your dog in your bedroom may not be as disruptive as some people suggest.
More specifically, the results showed that the individuals' respective measures of sleep efficiency (which is the total ratio of time asleep compared to time in bed, according to Verywell) was maintained at about 83 percent overall. According to TIME, 80 percent sleep efficiency will do the trick for a good night of rest.
But, again, the position of the dog did matter here. Having a dog actually in bed with the participants did lower their sleep efficiency ratio by about 3 percent overall.
Regardless, it seems like a whole lot of people like to snuggle up with their pupper when it comes time to go to sleep.
Case in point: About 45 percent of people surveyed by the American Kennel Club in 2015 reported cuddling with their canines during bedtime, a greater total than any other designated pooch sleep spot. Dogs that sleep in other places throughout their owner's house accounted for 14 percent of people surveyed, while 17 percent of people said their dogs sleep in their own dog bed, 20 percent keep their dog in a crate at night, and only 4 percent have their pups snooze in an outside shelter.
At the end of the day, where you have your dog when you pack it in for the night is totally up to you, and should ultimately be decided by your comfort level and your quality of sleep. As Pat Miller, CBCC-KA, CPDT-KA wrote in an article for Whole Dog Journal, where your dog sleeps is really nobody's business but your own. Simply take into consideration your dog's behavior, and how it affects your sleep cycles.
There are ways you can both comfortably share a bed, Miller explained, as well as ways you can effectively train your dog to enjoy a different place to sleep if that feels like the best option for your situation. For example, Miller wrote, you can train your dog to respond to your commands, and make sure they know what "off" means.
But let's be real: Who can say no to that face?