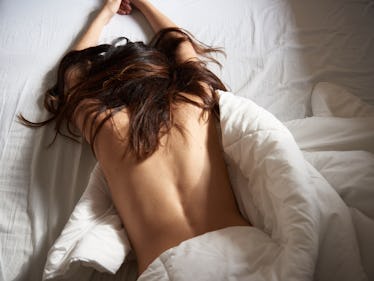 6 Ways To Feel Comfortable Sleeping Naked If You're Always Super Cold At Night
I have always been a fan of pajamas, both in and out of bed, because they're just that darn cozy. So when friends and lovers sang the praises of sleeping naked, I always kind of scoffed at the idea. Well, I scoffed, that is, until l I heard there are apparently a lot of health benefits to sleeping in the buff. Funny, right? So I had to ask, as I'm always down for those tips about how to live my best life, is sleeping naked better for you than sleeping in your favorite lace-fringed, flannel nightgown?
Some will say, yes, it totally is better for you. Sleeping naked is apparently associated with some pretty cool, and somewhat surprising health benefits. For example, it supposedly can help you air out and reduce bacteria growth in your vagina, as well as keep your body temperature cooler without those added layers, which makes for a more restful sleep. Sleeping naked can also help with things like regulating your cortisol levels (aka stress hormones) and improving your skin.
But if you're having any doubts about stripping down and getting to sleep, worry not, my friend. There are ways to give this whole nude snooze thing a shot, even if you run cold, or you're just simply too wary of the whole thing.