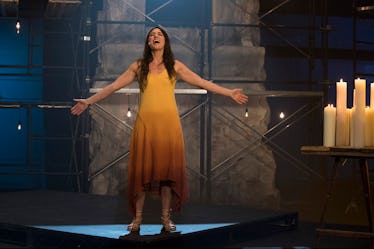 Here Are All The Details About Sara Bareilles' 'Jesus Christ Superstar Live' Performance
Virginia Sherwood/NBC
Sara Bareilles is one of the most notable singer-songwriters of the last decade, she's written songs for a hit Broadway show (as well as performed in it), and now she'll be hitting the stage for a NBC's Jesus Christ Superstar Live. Sara stars alongside fellow chart-topper John Legend in the concert extravaganza — a broadcast that is not previously taped. Yup, it's coming to your TV screens straight from Williamsburg, Brooklyn, so this is the real thing, people. Since it's a live event, is Sara Bareilles lip syncing in Jesus Christ Superstar Live? The talented performer's turn as the iconic Mary Magdalene is bound to be a memorable moment in recent TV history.
From "Brave" to "Gravity," Sara Bareilles' catalog of catchy and stirring melodies have proven what a brilliant and versatile artist she is. The Grammy Award nominee's most recognizable song might be 2009's hear-it-everywhere tune "Love Song," but if you're not familiar with her other work, it's about time to get involved. In addition to her successful records and singles, Sara took Broadway by storm in 2016 when she wrote the lyrics and music to the musical adaptation, Waitress. No biggie, right? She even earned Tony and Grammy nods for work. Sara is clearly no stranger to performing live — here's what you should know about her role in Jesus Christ Superstar Live.
She's Playing Mary Magdalene
If the rock opera Jesus Christ Superstar is not on your musical radar, you might want to know that the Andrew Lloyd Webber and Tim Rice favorite tells the story of Jesus' last week from the perspective of Judas. "She is a disciple, a believer, a friend, a confidant, a champion," Sara said in a sneak peek of the upcoming special.
Live TV? Sara's Got This
"To do this show live on television, especially in front of a live audience, it's electric and thrilling. It is an epic journey to witness," Sara remarked on the challenge of a live telecast. It's looking like these pros will probably not be doing any lip syncing, since the telecast is meant to mirror a concert experience. John and Sara have plenty of experience singing their hearts out for massive audiences in arenas all over the world, so perhaps they think of it as just another concert gig. In front of all of America. In HD. On a major network. On Easter Sunday. Totally not nerve-racking, right?
She's Been a Fan of the Show For Years
Sara has her own personal connection to Jesus Christ Superstar. "My musical influences were musical theater influences growing up and my older sister Stacy really loved this show. I remember one of my earliest memories of the show was watching the film at home and just weeping," she explained at a Paley Center behind-the-scenes panel. "It's so passionate and it felt sort of provocative, but I just remember weeping during "Gethsemane" and these melodies, I think, are some of most beautiful music I've ever heard."
She's Putting Her Spin On It
"We're overjoyed to have Sara Bareilles play Mary Magdalene and I can guarantee that her interpretation of the standard "I Don't Know How to Love Him" will become an instant classic," NBC Chairman Bob Greenblatt said in a statement when her participation was announced. "I was lucky enough to see Sara in "Waitress" and she gave as moving and as beautifully sung a performance as I've seen on a Broadway stage in a long time."
You Can Sample Some Songs Prior to the Big Show
Much to the dismay of my neighbors, I'm setting my sights on singing along to this thing. Want to join? NBC has already released a brief lyric video for the beloved ditty, "Everything's Alright," in addition to sneak peeks of Sara's rendition of "I Don't Know How to Love Him." The 27-track soundtrack won't be out until April 6, but there is a Spotify with some of the songs available now.
Jesus Christ Superstar Live airs Sunday, April 1 at 8 p.m. ET on NBC.