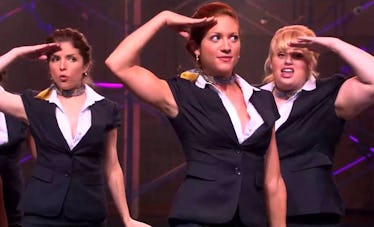 The 'Pitch Perfect' Bellas Seem To Be Teasing A 'Pitch Perfect 4' In This New Photo
Universal Pictures
The aca-adventure may not be over yet. Many fans thought that the Pitch Perfect Bellas may have belted their last note in last year's globe-trotting Pitch Perfect 3, but a new cast photo is teasing that our favorite a cappella group could actually be returning for another movie. So, is Pitch Perfect 4 really happening? Let's break down what we know about the possible new movie.
The news of a possible fourth Pitch Perfect movie probably comes as a bit of a surprise to fans, mostly since last year's Pitch Perfect 3 was marketed as and felt so much like the conclusion to a trilogy. Ad campaigns for the third movie called it the "Farewell Tour," and the film followed the Bellas after they had graduated college, reuniting them for one last a cappella competition for the USO. It certainly seemed like that would be that for the Pitch Perfect series, and Anna Kendrick told PEOPLE that much as well: "It certainly does feel like it's the finale. We are all at peace with the idea that it would make sense if this was the last one."
But a new photo is making fans think that Pitch Perfect 3 was not the ending we all thought it was. Rebel Wilson posted a picture with her Pitch Perfect castmates Anna Camp, Brittany Snow, and Chrissie Fit. No big deal — the cast hangs out and posts photos together all the time. Except this picture included all of the actors throwing up four fingers, and Wilson captioned the photo with four hearts.
Ummm, this could only mean that Pitch Perfect 4 is a go, right?
Although Pitch Perfect 3 may have felt like a series finale, much of the cast and crew behind the movies have always said that they want the film franchise to continue. When the Pitch Perfect 3 cast appeared on The Ellen DeGeneres Show ahead of the premiere, Anna Camp said she was in denial that the franchise could be ending, and Anna Kendrick assured fans that they would keep making the movies forever if they were given the opportunity.
Brittany Snow echoed Anna Kendrick's statement to Extra, saying that the cast had grown so close that they would definitely be down to make a Pitch Perfect 4 if it comes to fruition: "I think all of us would be game for it ... We are still incredibly close and we will probably make them — if they want us to — until the end of time."
And Pitch Perfect 3 director Trish Sie was also enthusiastic about the idea of making a fourth movie in an interview with The Hollywood Reporter. Sie even threw out the idea that a fourth movie could either continue following the Bellas into adulthood or shift focus to a new group of college a cappella singers:
I would see these movies on and on and on until they start sucking. I think whether it's these women in the next stage of life or it's a new group of women going through these things, I think there are endless ways to chart the course of the girls' lives and a woman's life.
Although everyone seems to be in for a new movie, there is still no official news about Pitch Perfect 4 yet. But, that cast photo Rebel Wilson posted sure makes it sound promising!