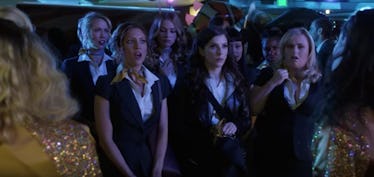 Will There Be A 'Pitch Perfect 4'? Fans Think That Would Be Aca-Awesome
YouTube
Who says a movie franchise has to end when its trilogy is complete? Hey, it worked for Rocky, Scream, and Lethal Weapon... The third installment of the beloved Pitch Perfect films is about to hit theaters, but of course fans are already wondering if they can expect more Barden Bella acapella adventures in the future. Will Pitch Perfect 4 happen? We can only aca-hope at this point.
The Bellas go on what's being referred to as their "farewell tour" in the third movie — breaking away from their post-collegiate lives (which aren't going exactly as they hoped) for overseas USO performances that bring them together for one last time. Or is it? Anna Kendrick, who stars as Beca, recently spoke to PEOPLE about the possibility of a fourth movie. "It certainly does feel like it's the finale," she explained. "We are all at peace with the idea that it would make sense if this was the last one." Sigh. We're just going to go ahead and hang on to the word "if." "I didn't appreciate it fully until the third movie," she went on, regarding the cast she had the privilege of working alongside. "Being in a movie with 10 really unique and diverse women… I kind of looked around and was really like, 'Oh, this might not ever happen again." Operative word here is "might." Fingers crossed.
"I don't want to say goodbye. I'm in denial that this is the last one," Anna Camp, who plays Aubrey, revealed on Ellen when asked about franchise's future. "I feel like if it is the ending we tried to make it satisfying and cathartic," Kendrick chimed in. "It's certainly really emotional for us because we don't know, it's not up to us if there's any more. We would do them forever..."
"You know, I don't know if we'll continue. It could be the very end, but never say never. Even if the movies don't continue on, I think these women would be friends forever," Anna Camp also recently said to Refinery29. "Why not, in a few years, do a reunion?" We'll take it. Reunions and revivals are practically a Hollywood given these days, so maybe fans just need to be patient.
Aside from the aca-amazing singing, the jokes, and the sight gags, enduring friendship is really the glue that holds the Pitch Perfect movies together. And it's no surprise that the cast loves working with one another — they appear to truly enjoy each other's company off-screen.
Brittany Snow, who portrays Chloe, was even a bridesmaid in co-star Anna Camp's 2016 wedding to Skylar Astin. Astin played Jesse in the first two Pitch Perfect films but does not appear in the third movie, as the Treblemakers aren't set to be featured. He and Camp met on the set of first film and quickly became one of Hollywood's most adorable couples.
"It's funny since I've known them from the beginning of them meeting and dating, and to now see them get married is pretty surreal," Brittany told PEOPLE. "It's our own little Pitch Perfect family."
Outside of the Pitch Perfect universe, Anna Kendrick is currently filming the Christmas comedy Noelle, in which she'll play Santa Claus' daughter. She's also signed on for Trolls 2. Rebel Wilson will be starring in the upcoming films Nasty Women and Isn't It Romantic. Hopefully, the charismatic cast will find time to hang together amidst their busy schedule now that the Pitch Perfect films have supposedly wrapped for good.
Pitch Perfect and Pitch Perfect 2 were both major box office successes and the third film is on track for a big holiday weekend opening. Why stop now, producers? Give the people what they want.
Pitch Perfect 3 hits theaters Friday, Dec. 22, 2017.