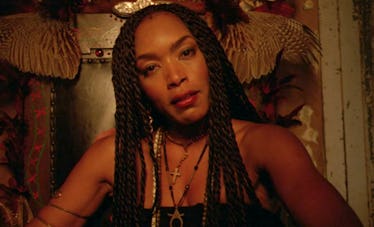 Angela Bassett Is Rumored To Return As Marie Laveau In The 'AHS: Apocalypse' Finale
FX
American Horror Story fans have gotten to see almost all of the coven come back together on Apocalypse this season, but two of the most powerful witches from Coven are still M.I.A. Unfortunately, there is no sign of Fiona Goode making a comeback this season, but there could be a blast from the past coming our way soon. Rumor has it that Angela Bassett may reprise her role as voodoo queen Marie Laveau in an upcoming episode. So, is Marie Laveau in AHS: Apocalypse? Let's talk about this new rumor.
Although Ryan Murphy had previously teased that all of the witches had been asked back for AHS: Apocalypse, the season still has not shown us every major Coven witch. Both Fiona Goode and Marie Laveau have been the sole witches to sit this season out, and it was looking like it was going to stay that way after Jessica Lange got in her appearance as Constance Langdon and Adina Porter's new character Dinah Stevens was revealed to be the new voodoo queen, essentially replacing Angela Bassett's former role.
But now rumors are flying that Angela Bassett actually will be back as Marie Laveau for the season finale of AHS: Apocalypse. Multiple AHS leak and update social media accounts are posting that Marie Laveau is set to appear in the final episode of the season.
Of course, this has yet to actually be confirmed by Angela Bassett, Ryan Murphy, or FX, so it should be taken with a grain of salt, but seeing Marie Laveau again is definitely an exciting prospect, so hopefully it turns out to be true.
Accounts are also rumoring that Kathy Bates will reprise her Coven role as Delphine LaLaurie due to a photo of the prop cage that Marie Laveau imprisoned LaLaurie in popping up from the Apocalypse set decoration crew. That also seems to suggest that Laveau and LaLaurie will be brought back together, continuing their fraught storyline in the Apocalypse finale.
Before AHS: Apocalypse began, Angela Bassett confirmed that she was not going to be a part of the new season despite all the Coven crossover. However, the season has continued filming while it airs, and only just concluded its production this past weekend, so there was ample time to add Bassett into the mix.
In early October, when about half of Apocalypse had aired, Angela Bassett admitted to the Hollywood Reporter that she was a bit upset that Marie Laveau has not appeared on the new season:
I have [Season 8] on my DVR, but I haven't seen any of it just yet. But I mean, come on. Where's Marie Laveau? I'm even a little bit in my feelings that Marie didn't come back.
Hopefully, Angela Bassett got her wish and Ryan Murphy worked out a way to bring back Marie Laveau for the finale episode of the season, as the rumors are saying. We still have two more new episodes between us and the season finale, though, so we might not find out if Laveau is back or not for a couple of weeks.
The season finale of AHS: Apocalypse will air on Wednesday, Nov. 14 at 10 p.m. ET on FX.