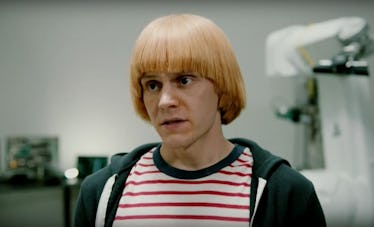 Evan Peters Rocks A Bowl Cut As Another New Character In Next Week's 'AHS: Apocalypse'
FX
This season of American Horror Story has featured some of the franchise's fan-favorite actors taking on multiple roles: Frances Conroy played both Myrtle Snow and Moira O'Hara, Taissa Farmiga brought back Zoe Benson and Violet Harmon, and Sarah Paulson has pulled triple duty as Cordelia Goode, Billie Dean Howard, and the new character Wilhemina Venable. But Evan Peters may end up playing the most characters this season. The new AHS: Apocalypse Episode 8 trailer reveals that Evan Peters donned a truly disastrous wig to play yet another new character in Apocalypse.
Spoiler alert: This post will contain details from the first seven episodes of AHS: Apocalypse. Before this major crossover season began, fans were most surprised to learn that Sarah Paulson would be playing three different characters on Apocalypse, but now it looks like Evan Peters will actually be stepping into four different roles as of next week. Peters has already appeared this season as the lascivious hairdresser Mr. Gallant, as well as bringing back his Hotel character James March and his Murder House role of Tate Langdon.
And the newly released trailer for Episode 8, entitled "Sojourn," revealed that Evan Peters will play yet another new character — a devout follower of Michael Langdon's who has an impossible-to-ignore bowl cut. Check out the teaser trailer for the upcoming episode below:
As the promo trailer shows, Evan Peters' new character is also joined by a second Apocalypse role for Billy Eichner, who will play another bowl cut-sporting Satanic worshipper. Eichner has already previously appeared on this season as Coco St. Pierre Vanderbilt's husband-turned-nuclear zombie Brock.
The trailer teases that Episode 8 will focus largely on Michael Langdon's ascent (descent?) into fully embodying his role as the antichrist before the apocalypse. After Episode 6 showed Michael coming of age within the Murder House and then being discovered by a cult of Satanic devotees, it looks like Michael will next live with these Satan worshippers as he reckons with his newly realized identity. As seen in the trailer, the new episode will also introduce Sandra Bernhard as the Satanic priestess and leader of the devil worshippers.
But probably most importantly, the teaser also shows a confrontation between Cordelia Goode and Michael Langdon is about to happen. At the end of this week's episode, Cordelia oversaw the burning of Miss Mead at the stake, alongside the two warlocks responsible for Michael's rise among the coven. Since Michael openly admits in the present timeline that Miriam Mead was the most important person in his life, it is no wonder that we see him let out a devastating scream when Cordelia tells him that she killed her.
With only two Apocalypse episodes left after next week's eighth episode, fans are guessing that "Sojourn" may be the final episode set within the prolonged flashback to the coven trying to stop Michael Langdon, meaning that we may get to see an all-out battle between the two next week. After that, the show will hopefully return to the present-day storyline within Outpost 3, which we have not been back to since Episode 3.
Episode 8 of American Horror Story: Apocalypse, entitled "Sojourn," will air on FX on Wednesday, Oct. 31.