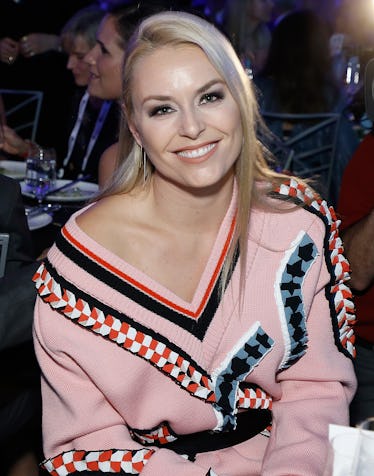 Fans Are Wondering If Lindsey Vonn Is Single After This High-Profile Split
John Lamparski/Getty Images Sport/Getty Images
The Winter Olympic Games are quickly approaching and there are some major athletes to look out for. Some of them, like Lindsey Vonn, have become household names because of their star quality. The blonde skier has made a name for herself on the slopes and in the tabloids thanks to a few high-profile relationships. However, is Lindsey Vonn single now? The athlete recently ended things with her most recent boyfriend in November, and seems to be focusing on her career at the moment.
Vonn has been on the sports scene for years, but came splashing across the headlines as a result of her very public relationship with Tiger Woods back in 2013. The relationship received a lot of attention because it was after Woods' string of bad behavior. In May of 2015, the veneer of their relationship came crashing down when it was reported that Woods had returned to his old ways and reportedly cheated on Vonn, according to an exclusive article from Daily Mail. A source said,
He had a relapse in the sex department. Lindsey found out about women again. Always while he's on the road. Just like when he was with Elin.
The source explained that Woods spilled the truth to Vonn after he was seen in public with the woman he was reportedly having an affair with. The source continued,
When Tiger realized he was seen, he became concerned and eventually he decided to confess to Lindsey. Something he didn't do with Elin. He came clean and I give him credit for that.
However, it was (understandably) too much for Vonn.
The unnamed source concluded,
Yes, Tiger cheated again. But it wasn't with anyone special. He really wanted Lindsey to be the one. But he blew it again. He can't help himself. He's got an addiction. He relapsed.
Vonn has sinced moved on and started dating former assistant coach of the Los Angeles Rams, Kenan Smith. The two dated for over a year until their split in November of 2017.
According to People, the two are still friendly, but their hectic schedules eventually led to their demise.
A source told People,
Unfortunately, their busy schedules ultimately took a toll on the relationship ... It was amicable and they are still friends. Lindsey is laser-focused on her training for the upcoming Olympics and is leaving the country for several months to start competing.
Since their split, Vonn has been training hard, spending time with friends and family, and enjoying life, from the looks of her Instagram.
Besides being an unbelievably fierce athlete, Vonn is also founder of The Lindsey Vonn Foundation, which supports girls with scholarship opportunities.
According to the description on the website,
The Lindsey Vonn Foundation is committed to engaging the community and our future generation with a positive and constructive atmosphere. We focus on strengthening the community by supporting girls through scholarships, education and athletics. With our all-girl program we create a comfortable environment for growth as athletes, as learners, and as individuals.
Part of The Lindsey Vonn Foundation's goal this year is "to fund more girls camps, inspire confidence through more speaker series, and give more scholarships to the girls who need it."
Pretty badass if you ask me. Vonn is definitely using her notoriety to improve people's lives around her. She's obviously grown her passion beyond sports.
You may recognize Lindsey Vonn's name from her athletic accomplishments, charity foundation, or her past relationships. However, there's no denying she has definitely made a name for herself in many aspects of mainstream culture. You can catch her at the Winter Olympic Games, which will air from Feb. 9 until Feb. 25. Keep doing you, Lindsey Vonn.
Check out the entire Gen Why series and other videos on Facebook and the Bustle app across Apple TV, Roku, and Amazon Fire TV.