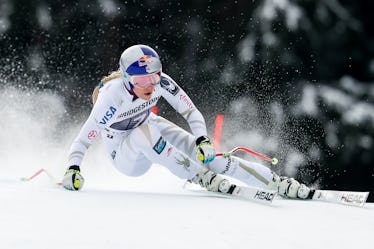 Lindsey Vonn's Tweet About The Olympics Opening Ceremony Shows How Excited She Is
Hans Bezard/Agence Zoom/Getty Images Sport/Getty Images
It was a hard road for Lindsey Vonn to get back to the Olympics. She's been skiing for Team USA since 2002, but after making the team and competing (and winning) in three consecutive Olympics, 2014 saw her have to withdraw after a right knee injury reared its head and took her out of the running. Since then, she's been rehabilitating with dreams of 2018 dancing in her head. In January, it was announced she'd made Team USA once more for Alpine Skiing. So why is it a question if Lindsey Vonn is at the 2018 Olympics opening ceremony?
The irony is that Vonn struggled to bring herself back from injury and make the elite squad once more. But the now-four-time Olympian found, with hours before the opening ceremony was to start, that getting to PyeongChang would instead be an Olympic obstacle course of bureaucracy. On Wednesday, Feb. 7, she tweeted out that she was sitting on an airplane, ready to go. But the plane couldn't take off with her on it. She didn't have the right paperwork to fly to South Korea.
Even worse, she delayed the flight for everyone while her people scrambled to solve the issue. In the end, she deplaned to let it take off, while there was another mad scramble to get her documents in order, and to get another flight across the ocean.
At least she kept her sense of humor once she found herself without a flight.
When fans asked why she was leaving on Wednesday, when her events don't start for a few more days, she explained it was to get to the opening ceremony.
Finally, a new flight was booked.
Vonn spent the time on Twitter, telling her fans about the ordeal and answering questions, like how her poor pup was taking all this.
So did she make it? Yes, she did, despite her ordeal. How can we be sure? She tweeted about it, naturally.
We can't wait to see her walk in the parade of athletes with the rest of Team USA.
Despite having now gone to the Olympics four times, Vonn has only scored medals once, in 2010, in Vancouver, where she took home two: both a gold and a bronze. But for those worried about her odds this year, she's entering the 2018 PyeongChang Games at the height of her comeback, though. Just before leaving this week to travel to South Korea, she spent the weekend in Europe and competed in Germany, where she knocked out back-to-back downhill wins. It's a good sign that this trip could be her lucky year, and that she'll medal again.
Exactly where she'll medal is unclear though, as Vonn is a competitor who's taken home World Cups in all five alpine disciplines: Downhill (that's the one where they swoop back and forth through the uprights); Slalom (like downhill, only a shorter, tighter course); Giant Slalom (Slalom on steroids); Super-G (the speed event); and the Combined category, which pairs downhill with slalom. (She's one of only six women to be able to claim this.) But the fact is, she probably won't be skiing in all five. When asked, she's only committed to doing three: Downhill, Super-G, and the Combined category. Fans have high hopes for her chances though.
The Women's Ski Team's first event will be this coming Sunday, Feb. 11, with Women's Giant Slalom at 8:15 p.m. ET. The first of the events that Vonn has committed to being in begins on Friday, Feb. 16, with Women's Super-G at 9 p.m. ET. Good luck to all of Team USA, and let's go for the gold!
To learn more, visit teamusa.org. The Winter Olympics will air live starting February 8.