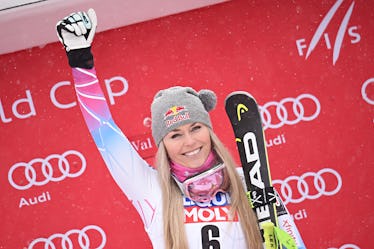 Lindsey Vonn's Olympic Schedule Is Here, So Get Ready To Watch The Queen Of The Slopes
Michel Cottin/Agence Zoom/Getty Images Sport/Getty Images
I'm not even going to pretend I'm not excited. Friday, Feb. 9, is when the Opening Ceremony begins for the 2018 Winter Olympics and world, I am BEYOND pumped. Taking place in Pyeongchang, South Korea, athletes from all over the world will be competing to take home the gold — but there's one competitor in particular who I'm stoked to see this year, and that's skier Lindsey Vonn. Many were unsure if she was going to compete this year, and, while she is going to be skiing to try and place for a medal, this Olympics may be her last. But let's focus on the good news, and that's the fact that we'll be seeing one of the most successful skiers in history once more this year. And, if you're like me, you're going to want to know the schedule of Lindsey Vonn's competitions so that you can cheer her on (from the comfort of your couch, of course).
Making her Olympic debut back in 2002 in Salt Lake City, Utah, 17-year-old Vonn has been crushing the sport of skiing for over a decade. Now, at the age of 33, she's had a successful career doing what she loves, despite some major physical setbacks.
Back in 2013, Vonn suffered a terrible knee injury almost one year to the day before the 2014 Olympics in Sochi, Russia, making her unable to compete that upcoming year. Part of the reason why everyone is so amped to see her this year is because of that hiatus she had to take in the last winter Olympics, so knowing that she'll be back on the slopes this year is making everyone mark their calendars.
(Friendly PSA: It's 2018, not 1965.)
We almost thought that this year's Olympics would be yet another game that Vonn was unable to compete in due to a back injury during a World Cup race this past December, but luckily her injury was not as severe as her knee injury, and she's able to ski without any issue.
This girl is basically unstoppable, and watching her ski is all kinds of amazing. She's a natural-born athlete, and watching her makes you question how someone can be so excellent at something while your biggest achievement is running a mile that one time a few months ago (totally not a personal story, I swear).
If you're interested in checking out Vonn's schedule, you've come to the right place. According to Sports Illustrated, "Alpine skiing at the Winter Olympics consists of six main events, divided by gender, and a seventh mixed-gender event." Here's the women's alpine skiing schedule, all in ET:
Sunday, Feb. 11 Women's giant slalom 8:15 p.m.
Tuesday, Feb. 13 Women's slalom 8:15 p.m.
Friday, Feb. 16 Women's super-G 9:00 p.m.
Tuesday, Feb. 20 Women's downhill 9:00 p.m.
Thursday, Feb. 22 Women's alpine combined 9:00 p.m.
Friday, Feb. 23 Skiing team event 9:00 p.m.
Get ready to watch some serious shredding, y'all.
Anyone who has seen the Procter and Gamble commercial series, "Thank You, Mom," was touched by Lindsey Vonn's story (her mother had a seizure while giving birth to Vonn), and many are wondering if Lindsey Vonn's parents will be attending the Olympics in Pyeongchang to root for their daughter. While we don't know for sure whether or not they'll be there, Vonn has been very vocal about how important and special it was for her to have her family cheering her on while she's racing.
After winning the World Cup Super-G event in December of 2017, she told USA Today:
I asked my dad if he could come to some races with me. My dad's always the one who says, 'Never, never give up.' He loves Winston Churchill. It's nice to be able to share these moments with my dad as I approach the end of my career.
Is this not the sweetest?
If you think that you need more Lindsey Vonn in your life (I mean, who doesn't?), make sure you stalk — er, I mean follow — her on Snapchat and Instagram, where you'll see she posts photos of her keeping in tip-top shape:
Can someone say, "crushing it"?
Vonn is an inspiring athlete who deserves all that she achieves, and I, for one, can't wait to watch her in Pyeongchang. Get it, girl!