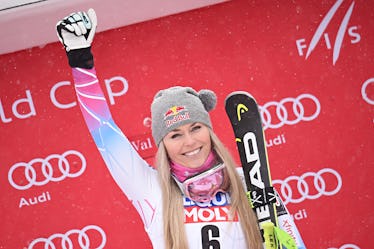 You Need To Be Following Lindsey Vonn On Social Media For These Epic Motivational Posts
Michel Cottin/Agence Zoom/Getty Images Sport/Getty Images
With the 2018 Winter Olympics less than a month away, now is a great time to start following all the athletes on social media. Posting training vids and inspirational quotes has become a big part of the game this year, which means we can now follow along with all the intense workouts and fan meet-and-greets from the comfort of our very own homes. There is one competitior in particular who I can't wait to see crush it in Pyeongchang, so I plan to follow Lindsey Vonn on Snapchat, Twitter and Instagram. And you probably should, too.
But before I tell you where you can find the 33-year-old Olympic skiier on social, here's a little reminder about why she's so damn awesome. Vonn hit the slopes for the first time when she was just two years old, and has gone on to win four World Cup overall championships — and she's one of only two female skiers to do it. See what I mean? Oh, and did I mention that this will be her fourth Winter Games — she also competed in 2002, 2006, and 2010 — and that she's already a two-time Olympic medalist, with one gold and one bronze under her belt? It just doesn't get more badass than that — although I did once win a trophy at camp for playing jacks.
Of course, Vonn's also had her fair share of injuries, which is why she missed out on the 2014 Olympic Games in Sochi. But this fearless warrior is all about the comebacks, which is why she is prepping big time before hitting the slopes for her fourth — and most likely final — time as part of Team USA. And thanks her her avid posting on social media, we get to bear witness to it all while sitting on the sofa in sweats scarfing handfuls of popcorn.
And yes — by "we" I mean "me." Don't judge, OK?
Anyway, if you want to see killer pics and videos of the comeback queen in action, head over to Vonn's Instagram account — @lindseyvonn — where you'll find her getting her Games prep on in the weight room:
Get it, Linds! I am so here for her strength and determination! And hello, ab game! A body as strong as Vonn's doesn't come easy, though — just check out those Kettlebells! And I love the way she sometimes ups the ante by adding inspirational quotes to the pics of herself pumping iron.
"It is not the critic who counts," she captioned the above image. "It's not the man who points out how the strong man stumbles, or where the doer of deeds could have done them better. The credit belongs to the man who is actually in the arena, whose face is marred by dust and sweat and blood." -Theadore [sic] Roosevelt
Good stuff. But if you want an inside line on what's really going on with Vonn's training, head over to her Twitter feed — @lindseyvonn — where the Olympian occasionally gets real about how hard things can get during her training sessions.
So tough and admirable. But Linsdey also had a softer side. To catch a glimpse of it, be sure to hit up her Snapchat — @lindseyvonnski — where she posts lots of fun, filtered selfies and cute videos of her dogs.
Oh, and P.S. — they have their own Instagram account, too.
Keep crushing it hard in the gym and going after those goals, Lindsey. You are a true inspiration to so many of us, and no matter what happens in Pyeongchang, you're already a winner!
To learn more, visit teamusa.org. The Winter Olympics will air live starting February 8.