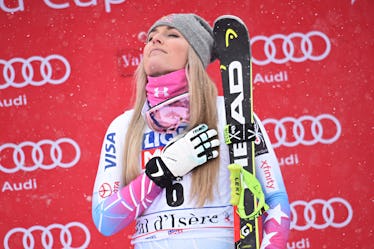 Lindsey Vonn's Net Worth Will Make You Want To Try Out For The Olympics ASAP
Michel Cottin/Agence Zoom/Getty Images Sport/Getty Images
The Winter Olympics are less than a month away, with the opening ceremony to be held in Pyeongchang on Feb. 9, 2018. Athletes from all over the world will be there to compete in all the snow-focused sports, like skiing, snowboarding, ice skating, and more. Americans will be sending their finest sports figures, including Lindsey Vonn, who has staged one heck of a comeback. But is it really worth competing in the Olympics every four years? You have no idea. What if I told you Lindsey Vonn's net worth was $3 million from her sports career?
Most people don't think about sports as a way to get rich, but it is. Richard Williams famously said he started planning to train daughters Venus and Serena when he learned how much tennis champs were rewarded per winning purse. But it's not just games like tennis. Skiing, snowboarding, ice skating — all these championships come with serious money behind them. And that's before the stars become household names. You go to the Olympics and you win? There's a check from Wheaties waiting for you so they can put your face on the box. Think of all the sports figures in commercials. Do you know how much money falls into Payton Manning's bank account every time someone even whistles that damn Nationwide song?
Vonn's been at this career for a while, too. She won four World Cup championships, one of only two women skiiers to have ever done so. And she's been competing as part of the U.S. Skiing Team since 2010 in the Olympics, where she won gold in her very first event in Vancouver.
In 2014 she had a setback. A serious knee injury took her out of the sport, and she wound up having to sit out the competition at Sochi in 2014. For many athletes, that would have been it. Vonn was a celebrity anyway — she was dating Tiger Woods. The sponsorships she had included such major brands as Procter & Gamble, which is an Olympic sponsor, but also regular commercial sponsors, such as Under Armour, Head, Red Bull, Oakley, and Rolex.
She could have just retired and rested on her laurels, or become a coach to the next generation while doing the occasional commercial. Winning two gold metals will do that for you. But Vonn wasn't done. She staged a comeback in 2015 and has been actively working with the goal of getting to the 2018 Olympics in mind.
Vonn has had some stumbles of late, both in the injury department (when she hurt her back in 2017) and in the politics department. When asked in 2017 about her plans to go to the Olympics, she stated she competed to represent the United States, not the current president in the White House. Of course, some people took that the wrong way and called for a boycott.
None of Vonn's sponsors dropped her, and Vonn was able to weather to storm. In fact, at the end of November, she launched her first clothing line with Under Armour, the Lindsey Vonn winter collection, which is sure to fly off the shelves and pull in even more money as she competes during prime time on NBC.
But don't think that Vonn is just sitting around amassing her fortune. She grew up in Minnesota, and she knows that there are those less fortunate that her who deserve a chance at athletic scholarships. That's why she started the Lindsey Vonn Foundation. It got her named one of the 25 Women Changing The World by People in 2016.
We can't wait to see Vonn compete on the slopes next month. The Olympics air from Feb. 9 to Feb. 25, 2018 on NBC.