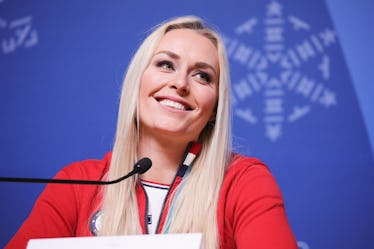 Lindsey Vonn Had A Special Role At The Olympics Closing Ceremony
Andreas Rentz/Getty Images Sport/Getty Images
Lindsey Vonn has had a spectacular comeback this year at the 2018 PyeongChang Olympics. She's been competing in alpine skiing at the Olympics since 2002 and medaled for the first time in the 2010 Vancouver Games with both gold (in downhill) and bronze (in super-G). However, she had to sit out 2014 in Sochi for an injury. Her goal this year was to return to the Olympics after the injury and take home a medal once again — which she did, winning the bronze in downhill. Having conquered the Olympics for the fourth time, is Lindsey Vonn at the 2018 Olympics closing ceremony? It's hard to imagine she'd miss it.
Vonn certainly worked hard to get herself back here, first coming back from her knee injury in 2014, and then again from more injuries in 2017. And then there was one more obstacle to overcome to get to the PyeongChang Olympics opening ceremony: a delayed flight to South Korea due to paperwork. It was a 24-hour ordeal (which her puppy luckily slept through). But after fighting so hard to make it to the opening ceremony, did she stay for the closing one as well? One would assume so, since her trip to South Korea has been one that has offered emotional closure for her family as well as her Olympic dreams.
In fact, during the closing ceremony in PyeongChang on Sunday, Feb. 25, Vonn played a part in the proceedings. During president of the International Olympic Committee (IOC) Thomas Bach's speech, he brought her and other athletes — including Tongan athlete Pita Taufatotua, most well-known for his penchant for being shirtless at Olympic ceremonies — out to hold up hearts as a welcoming symbol with the closing of the games.
Vonn is an all-round skier who could have competed in all five disciplines had she chosen to do so. In the end, she went with three this year: downhill, where she'd taken home gold before, super-G, the fastest event where she'd one a bronze in 2010, and the combined category, which pairs downhill with slalom. She managed to make the podium on the first, taking home a bronze, but finished sixth in super-G without a medal and did not finish the combined course.
Speaking to the press afterward her third and final competition, she said the following, according to USA Today,
I've been injured so many times that the fact I'm even here is a victory in itself. As a racer, as a person, I have to remember that as well because I do want to win and I'm usually not satisfied with a bronze. In this situation, I think I can be very happy with what I've accomplished.
At the age of 33, Vonn has now been to four out of the last five Olympics and is the oldest women to compete on the U.S. alpine skiing team and take home a medal for it.
But Vonn had other business as well in South Korea. Just before her competition started, she went to the downhill course and scattered her grandfather's ashes there. A veteran of the Korean War in the '50s, he passed away in November 2017. Talking to the Associated Press, she said,
I know that it would mean a lot to him to be back here. A part of him is in South Korea always... I miss him so much. He's been such a big part of my life. And I really had hoped that he would be alive to see me [at this year's Olympics]. But I know he's watching, and I know that he's going to help me, and I'm going to win for him.
She then went on to win the bronze medal, so let's hope she was right.
This will most likely be Vonn's last trip to the Olympics as a competitor, though we wouldn't be surprised to see her turn up in 2022 as an announcer or commentator in Bejing. But after a nearly two-decade career, she can walk out with her head held high, knowing her grandfather would be proud.