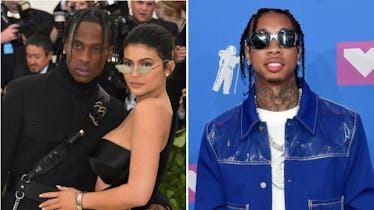 Kylie Jenner, Travis Scott, & Tyga Are All At The VMAs, Which Can't Be Awkward At All
Neilson Barnard/Getty Images Entertainment/Getty Images | Jamie McCarthy/Getty Images Entertainment/Getty Images
It's no secret that Travis Scott is performing at the MTV Video Music Awards. But naturally, Scott's scheduled performance has a lot of people asking whether his main gal Kylie Jenner will be there. It's pretty rare to see Scott and Jenner walking the red carpet together, so the VMAs is hopefully another opportunity to see the young couple share a moment in the spotlight. So, is Kylie Jenner at the 2018 VMAs? Yep, she's definitely there and serving up an incredible look.
There was some speculation earlier in the day about whether Jenner would actually show up, especially since Nicki Minaj took shots at her on Twitter over album sales.
But that's not the only awkward situation surrounding Jenner and Scott. Jenner's ex-boyfriend Tyga also showed at the awards, so fans are trying to figure out if there'll be any drama going on there. It seems that Jenner and Scott are quite the controversial couple right now. Let's all hope everyone is mature about their respective situation and nothing wild goes down during the awards ceremony.
In any case, Jenner is at the VMAs to support Scott who is scheduled to perform at the show. Scott was announced as a VMAs performer earlier in August. And according to Rolling Stone, the 26-year-old rapper is set to take the stage and perform a medley of songs from his latest album AstroWorld. Naturally, fans were expecting Jenner to be there to cheer her man on from the audience. So, it's great that she's there to be his support system, even in spite of all the awkwardness awards shows like the VMAs can conjure up.
Scott and Jenner last attended an event together in May 2018, when they walked the red carpet for the Met Gala. That was just three months after Jenner gave birth to their first child, Stormi Webster. Now that baby Stormi's a little older, fans have been hopeful that the new mom might be able to attend red carpet events more often, and the VMAs are no exception! Fans are literally obsessed with them, and they're letting their love of the Scott-Jenner union be known. Here's what's going down on the timeline right now:
These tweets make it seem like having all these people in the same place is a sure-fire way to breed disaster. But I have a feeling Jenner and Scott will have each other's backs, no matter what.
The two young stars have essentially been inseparable since their romance began at Coachella in April 2017. The usually private couple revealed some of their more personal moments in a recent interview with GQ magazine, when they gave fans a surprisingly intimate look at what their relationship has been like. Jenner talked at length about how they decided that the romance between them was truly worth pursuing:
Coachella was one of the stops on his tour. So he said, 'I'm going back on tour — what do we want to do about this?' Because we obviously liked each other," Jenner remembered. "And I was like, 'I guess I'm going with you.'
And the rest is history, as they say. Now, they're a true family unit. So, it makes sense that Jenner would be with Scott every step of the way as he achieves every music goal he sets for himself. Like his performance at the VMAs.