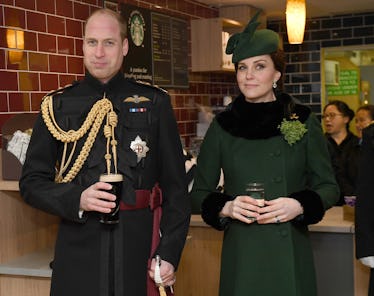 Prince William Might've Accidentally Revealed The Sex Of His Child With Kate Middleton
WPA Pool/Getty Images Entertainment/Getty Images
Kate Middleton is getting closer and closer to her due date, and while we wait for the third royal baby to arrive, people are wondering what the sex and name of the baby are going to be. Is Kate Middleton having a baby boy? Prince William might have let that detail slip while celebrating at a soccer game on Tuesday night, April 10. While I can't relate to anything sports whatsoever, I can appreciate that watching sportsball can be entertaining from time to time, and I hear watching a team you like win can also be fun. You know what else is fun? Looking up YouTube videos of different broadway queens riffing "Defying Gravity," but to each their own, I guess!
Anyways, enough about broadway royalty, let's talk about English royalty. At an Aston Villa game William attended on Tuesday, April 10, player Jack Grealish scored a winning goal and the crowd went wild! (Read: I'm assuming the crowd went wild. I didn't actually watch the game because as previously stated, I don't sportsball.) During the celebrations after the game, according to People, William reportedly joked about his third child's name with fans by saying, "I'm going to insist the baby is called Jack." Jack! So it's a boy?! William immediately tried to save face by saying, "...Or Jackie." Ohhhhh, good save there, Will. You really threw us off the trail with that one. This of course could've just been a slip of the tongue and have nothing to do with the actual sex of the baby, but then again, maybe he really did royally flub.
We won't have to wait much longer to find out though, as Kate Middleton is expected to give birth any day now, and the hospital she's set to give birth in is preparing for the royal family.
According to Us Weekly, parking restrictions in the form of metal barriers were placed in front of the Lindo Wing of St. Mary's Hospital in London on Monday, April 9. A few weeks earlier, the fence in front of the entrance was given a fresh coat of paint. These are all signs that the hospital is getting the entrance to the Lindo Wing photo ready for the upcoming debut of the royal baby. Middleton and Princess Diana both gave birth to all of their children in the Lindo Wing, and the children were all debuted on the same steps of the hospital, so Prince William and Kate Middleton will no doubt debut their prince or princess in the same fashion.
Whenever that baby does arrive, they will have two official titles. For the sake of this example, let's pretend the baby is a boy and his name is Jack, like William joked. Once born, the baby's titles will be His Royal Highness Prince Jack of Cambridge and His Royal Highness Prince Jack of the United Kingdom of Great Britain and Northern Ireland. Honestly, the name Jack is cute AF, but it sounds a little too casual compared to George and Charlotte. According to People, Albert, Arthur, and Philip are the most likely names if the baby is a boy, and Alice and Mary are the most likely names if the baby is a girl.
It read,
Their Royal Highnesses The Duke and Duchess of Cambridge are very pleased to announce that The Duchess of Cambridge is expecting their third child. The Queen and members of both families are delighted with the news. As with her previous two pregnancies, The Duchess is suffering from Hyperemesis Gravidarum. Her Royal Highness will no longer carry out her planned engagement at the Hornsey Road Children's Centre in London today. The Duchess is being cared for at Kensington Palace.
It's reportedly only a matter of days before the royal baby arrives, so keep your eyes peeled for news about a royal baby who may or may not be named Jack... or Jackie.