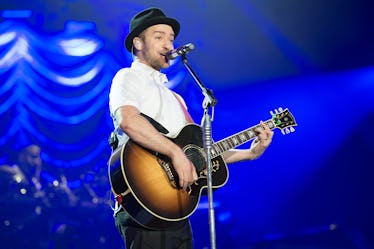 Fans Have One Question About Justin Timberlake's Upcoming Super Bowl Performance
Buda Mendes/Getty Images Entertainment/Getty Images
Somehow, in my whole 28 years of living, I'll be lucky enough to catch two Justin Timberlake Super Bowl halftime shows. The first was kind of a fiasco, and we've all been holding our breaths for the second. Fans are probably wondering if Justin Timberlake will lip-sync his Super Bowl halftime show. Honestly? Probably not.
Usually, for huge concerts like the Super Bowl, artists will have a portion of their vocals on a track and then sing live on top of it. You might see this in big dance numbers when the chorus of a song keeps going and the performer stops to do the one-two-step. Timberlake is notorious for his performance capabilities, and has proven he has vocal range AND rhythm over the course of his career.
Rolling Stone once released an interview with Jonathan Demme who created Justin Timberlake & The Tennessee Kids. It was a documentary following JT's last show in Las Vegas as part of his 20/20 Experience Tour. Demme only had incredible things to say about Timerblake's singing. He said,
I often wonder how other people perceive him. Does everyone realize what a magnificent voice he has? That he has an incredible range, without being show-offy?
If Timberlake ever does lip-sync, he's certainly not known for it. In fact, he's predominantly revered for how good he is live. Having collaborated with JAY-Z and Queen B, something tells me he's the real freaking deal.
If you do a quick YouTube search of "Justin Timberlake live" you'll be met with an onslaught of incredible performances. One of my favorites is this video of him performing with Beyoncé in 2008. They sang a duet to the song "Ain't Nothing Like the Real Thing," and JT handled his riffs and key changes like a boss.
Seems pretty legit, right?
Oh yeah, and then there was that time he and JAY partnered up for their song "Holy Grail" at the Barclays Center, and even though the video is sh*tty AF, I am ALL ABOUT IT. No lip-syncing here.
Oh yeah, oh yeah! Wait, wait, wait. There was also that other time when he opened for the Oscars and most certainly sang live. Meryl Streep saw it with her own eyes.
You guys, can we just let him BE?
Something tells me this is going to be one of Timberlake's biggest years yet, especially with the release of his fifth studio-album, Man Of The Woods. Timberlake has promised MOTW is a homage to his life's journey and particularly his hometown, Memphis, Tennessee. He also says his son's name, Silas, had almost everything to do with the title. He told Beats 1 Radio,
I literally just went on Google like, 'meaning of the name Silas,' and it sent me to this to this site and it said, 'of Latin origin, meaning 'Man of the woods.'' I was like, 'How serendipitous that my last is Timberlake, like what does that mean?'
In 2015, Timberlake experienced one of the greatest honors of his life. He was inducted into the Memphis Music Hall Of Fame and gave a heartwarming speech about his hometown and what it meant to him and his music.
He said,
This is the f—ing coolest thing that has ever happened to me. This is really, really a surprise for me to be honored here tonight. I felt like it was sort of unwarranted when I first looked at the list of my fellow inductees, but I've also never been one to turn down a reason to come home and spend time in the city that I grew up in that holds such a special place in my heart.
Congratulations, JT, on yet another epic performance and no nip slips this time! Loving you.
Check out the entire Gen Why series and other videos on Facebook and the Bustle app across Apple TV, Roku, and Amazon Fire TV.