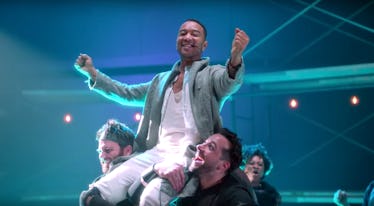 4 Details You Should Know About John Legend's 'Jesus Christ Superstar Live' Performance
NBC
John Legend is ready to ascend, and he is taking all of us with him. The R&B crooner will play the title role of Jesus Christ in NBC's live staging of Jesus Christ Superstar on Easter Sunday. Obviously, we all know Legend has the voice of an angel, but belting out a high note in the studio is a lot different than trying to be pitch perfect while also dancing and acting. So, is John Legend lip syncing in Jesus Christ Superstar Live, and what can fans expect from his version of Jesus Christ? Let's break it all down.
Like the previous four musical stagings that NBC has aired in the past five years, the network's Jesus Christ Superstar special will be performed entirely live. To drive that point home even more, the television special is actually officially called Jesus Christ Superstar Live in Concert. So yes, John Legend is definitely singing live on stage and not lip syncing to a pre-recorded track. The same goes for Legend's costars Sara Bareilles (as Mary Magdalene), Alice Cooper (as King Herod), and Tony-winning Broadway star Brandon Victor Dixon (as Judas Iscariot).
In case you need some sort of proof that John Legend is singing live, just check out this video clip of him rehearsing to hit all the Jesus Christ Superstar high notes. There is no doubt that he can confidently belt out the numbers from the show.
It is clear that the whole cast of Jesus Christ Superstar Live in Concert was selected by NBC due to their proven ability to perform live. Although they come from different musical backgrounds and genres, the main cast of the show all share a history of live performance.
Of course, John Legend has toured the world several times over to perform in concerts, as has Alice Cooper. Another major recording artist, Sara Bareilles has proven her live performance chops in concert, as well as starring in her Broadway musical Waitress. And finally, although the musical is called Jesus Christ Superstar, those familiar with it know that the real breakout role is that of the double-crossing apostle Judas Iscariot. That part is played by Brandon Victor Dixon, who has more than proven his incredible live performance abilities after over a decade on Broadway. Fans of the recent Broadway smash Hamilton will recognize Dixon as the actor who assumed the role of Aaron Burr from Leslie Odom Jr.
So, we all know that John Legend can sing, but what about the acting part of the live musical performance? Although Legend definitely has less experience in that field, he has been broadening his horizons and flexing his acting muscles recently. Last year, Legend blended his musical talents with acting in a supporting role in La La Land, the breakout musical drama that went on to score several nominations at the Oscars. Check out a promo clip that NBC has released showing Legend preparing for the role of Jesus Christ, and singing part of Jesus' big number "Gethsemane (I Only Want to Say)."
The other really exciting thing about John Legend starring in Jesus Christ Superstar Live in Concert is that it has the possibility of completing his EGOT. Legend has been cleaning up at the Grammys since he first began releasing records in 2006, and recently added an Oscar to his trophy room for his song "Glory" in Selma, and a Tony for producing the 2017 Best Revival winner Jitney. The only major award he has yet to win is an Emmy. But since Jesus Christ Superstar Live in Concert is a television special, it will be eligible for Emmy consideration and therefore has the chance to make John Legend an EGOT-winner.
Jesus Christ Superstar Live in Concert will air on NBC on Sunday, April 1.