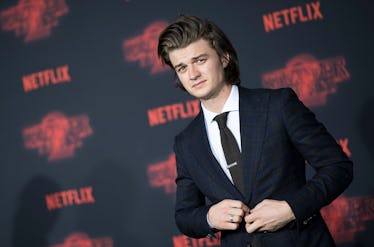 Sorry Fans, Steve From 'Stranger Things' Has A Girlfriend & It's Not You
VALERIE MACON/AFP/Getty Images
The perfectly coiffed 'do. That winning smile. That charismatic 'tude. Swoon. Steve Harrington has a heart underneath those preppy striped Polos and there's a chance you might have fallen for the Stranger Things character, or the man behind him, because his '80s charms are hard to resist this season. And he's not too shabby IRL. The actor who plays Steve has become a heartthrob of sorts, but is Joe Keery single? We don't want to be the ones to break it to you, but this star just happens to be off the market. Cue the collective sighs.
Yes, we know you probably already doodled his last name on yours in every Trapper Keeper you own, but the Stranger Things actor is a taken man. In fact, his girlfriend is a talented actress you are likely familiar with: Maika Monroe. The super cute pair stepped out on the red carpet for the first time as a couple for the Netflix show's Season 2 premiere last week, proving that they're definitely an item and are absolutely adorable together. Sorry to crush your dreams, #TeamSteve or, um, #Harringheads? We'll see if we can make that hashtag happen... We're not gonna push it, though.
You probably recognize Maika from the indie horror smash It Follows or the Independence Day sequel, Independence Day: Resurgence. She and Joe are actually set to appear in the upcoming movie Shotgun, together, so they will also soon call each other co-stars. Both of their careers are skyrocketing at the moment, as Keery has a number of big films under his belt this year, including Molly's Game and Slice. Maika starred in I'm Not Here and The Tribes of Palos Verdes is now working on The Widow. While the duo did go public with their relationship on the red carpet, they have remained relatively private about their personal lives on social media, despite both having active presences.
Joe is clearly a seriously skilled actor and he looks like a blast to hang out with off screen, but did you know he could have played another Stranger Things part? And would he have won your heart if his character Steve was even more douchey than he turned out to be? Keery revealed to Vulture that he went out for the role of Jonathan, yet he felt the Steve vibes even stronger and thought the part made more sense for him. He said,
Obviously I love the character. But right away, I was like, I don't necessarily think I have the right look for that character. And then when I did audition for Steve, I felt I had a pretty good understanding of what they wanted the character to be. I also had a pretty good idea of what I personally wanted to bring to him. So that's how the character Steve is now.
He also told GQ that Steve was supposed to be even more of a bad guy. "And when I got the script, Steve was definitely a little harsher. He was having this party — I think it was on a beach, because it originally took place in Montauk, Long Island. And he was a total, total dick. He forced himself on Nancy. Way harsher," he explained. No!
We're glad that Steve has evolved from one-dimensional popped-collar jockoid to vulnerable nice guy/unlikely hero/Dustin confidante. In the spirit of high school movies like The Breakfast Club, even the Varsity jacket-wearing bullies have problems sometimes, OK?
And while we start waiting not-so-patiently for Stranger Things Season 3 to arrive (the countdown has begun, people), we look forward to seeing the adorable Joe Keery on the big screen and in our Instagram feeds. Seriously, follow him. He's delightful.