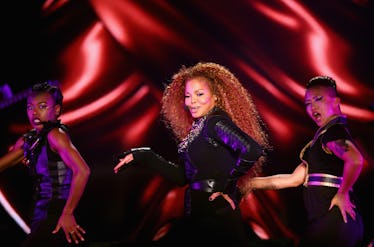 Janet Jackson Tweeted About The Super Bowl & You Won't Like What She Had To Say
Francois Nel/Getty Images Sport/Getty Images
One of the most exciting aspects of Super Bowl Sunday is the Super Bowl Halftime Show, right? Of course, the game is entertaining (especially if your team is playing), but many people join the party just to watch whichever superstar has been slated to belt it out at the halftime show. This year, Justin Timberlake holds that honor, which left many people wondering if he would give a nod to the last time he was on the halftime stage in 2004 (see: the Janet Jackson wardrobe malfunction). So, is Janet Jackson at the 2018 Super Bowl?
If you're hoping for a 2004 reunion, then Jackson's latest tweet might not be music to your ears. She went on Twitter on Saturday night, Feb. 3 to clear up any speculation regarding a possible halftime show appearance on Sunday, and her answer is a straightforward no. Jackson tweeted out a statement that answered the burning question:
To put to rest any speculation or rumors as to whether I will be performing at the Super Bowl tomorrow; I will not. Thank for your support and I do look forward to seeing you all very soon.
As soon as Jackson officially confirmed she wouldn't perform on Sunday, Feb. 4, fans chimed in with their disappointment on Twitter.
While fans are likely bummed they won't get to see Jackson belt out some of her greatest hits, many others are bothered she won't get a chance at redemption after the 2004 halftime show. You'll recall that the early-aughts performance had Jackson share the stage with Timberlake, and a duet of "Rock Your Body" ended with Jackson's right breast exposed due to an unfortunate wardrobe malfunction.
Given the circumstances surrounding the now 14-year-old Super Bowl Halftime Show, fans wished that Jackson would redeem herself as Timberlake will get the chance to do on Sunday night in Minneapolis. Since Jackson shut down any possibility of that happening, her fans are rallying around her.
For some people, Jackson was the only reason to watch the Super Bowl.
"Guess I'll be watching something else tomorrow."
Fans created #JanetJacksonAppreciationDay to show their devotion.
"We don't care about him anyway sis!"
Jackson's statement hit all the right notes for her fans.
"THE SUPER BOWL DOESN'T DESERVE YOU..."
Other were positive that she would perform, and they couldn't get over her not being there.
"Janet deserves to be vindicated."
Jackson shutting down performance rumors only made her fans' love for her grow.
"Just when I thought I couldn't admire you more. You are a strong black queen and a class act."
Some fans saw Jackson's statement as the ultimate mic drop.
"She doesn't need Justin Timberlake or the Super Bowl!"
The love from Jackson's fans is real.
"You deserve way better than that Janet! Fans just prepared a hashtag and just so you know, tomorrow will be all about you on here. We'll be celebrating you and nobody else!"
Jackson shut down the performance rumors on her own terms, and fans loved it.
"...LEGEND"
From the tweet responses, it appears that many of Jackson's fans won't be watching the Super Bowl on Sunday as long as Jackson isn't performing in the halftime show.
But the show will go on with Timberlake at the helm, and there are some halftime show surprises expected on Sunday, Feb. 4. One of those surprises might not be an *NSYNC reunion, so you might want to temper your excitement of that as a possibility. Apparently, Joey Fatone put the kibosh on the dream every '90s boyband fan when he revealed that he was not rehearsing for any kind of performance.
Timberlake has many famous friends, though, so there is a possibility that you'll see some major star power (*crosses fingers for a Britney appearance*) on stage in Minnesota on Sunday night.