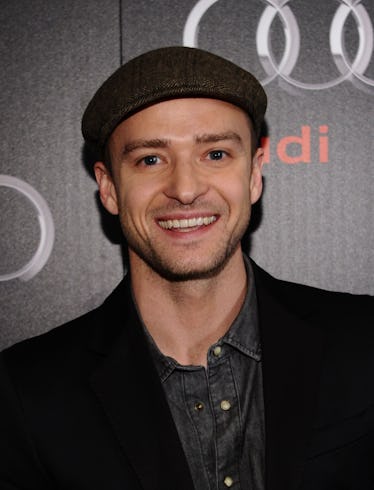 Here's Everything You Need To Know About The 2018 Super Bowl Halftime Show
Michael Buckner/Getty Images Entertainment/Getty Images
Football is cool, but have you ever watched a Justin Timberlake performance? We all know Super Bowl LII is upon us, and while the whole sports aspect of America's most-watched event is great, a lot of people are just as pumped for the big halftime show. 2018's headliner is none other than former *NSYNC-er, triple (or is it quadruple?) threat, and superstar performer Justin Timberlake, so we know we're in for a good time. But what time is the 2018 Super Bowl Halftime Show and what can we expect from JT and company? The details are starting to roll in. Hut, hut!
This year, the New England Patriots will be facing off against the Philadelphia Eagles. The game officially kicks off at 6:30 p.m. ET on Feb. 4 on NBC. Pre-show commences at 1 p.m., so make sure you have ample snacks to spare and a comfy seat to make a dent in. If the non-competition entertainment portion of the evening is why you're tuning in, prepare to watch P!nk sing the national anthem and bring the house down. Will she be suspended in the air while doing acrobatics during her rendition? Only time will tell, people, but we're going to go ahead and bet no. Plus, Tony Award winner Leslie Odom Jr. will be taking on "America the Beautiful." To top off this already epic lineup of powerhouse singers, Justin Timberlake is taking the stage at halftime.
According to The Verge, the average Super Bowl run time so far this decade is 3 hours and 44 minutes long. If you're hoping to catch Justin bring sexy back to U.S. Bank Stadium in Minneapolis, it's likely he'll go on sometime around 8 p.m. or so. Recent halftime shows have typically started in that time range.
Justin is no stranger to the Super Bowl gig — he performed alongside *NSYNC, Britney Spears, Mary J. Blige, Nelly, and Aerosmith back in 2001. (We're still trying to perfect Brit's iconic arm sock look). Then, he was famously featured in the 2004 Janet Jackson "wardrobe malfunction" seen round the world. Unless you're under the age of 14, you're probably familiar with Nipplegate, when Justin accidentally exposed Janet's right breast during a duet of "Rock Your Body." Chaos and controversy ensued. Many fans were crossing their fingers for do-over (minus that whole FCC frenzy thing) during LII, but it's being reported that Janet will not in fact be making an appearance. "As of last night, Janet will not be performing at the Super Bowl," a source told Us Weekly on Jan. 26. "Things, of course, can change in the next week, but it's a no as of now." We can only hope that the queen of Rhythm Nation changes her mind.
"I believe it's also the place where there's nothing wrong with giving people what they want," Justin remarked of his upcoming performance in an NFL Network behind-the-scenes trailer. "My biggest challenge is, what is my fingerprint on that show come Feb. 4 ... It's going to go by quick. The bit of unknown you're always sort of enthralled by. For 12 or 13 minutes, we're going to have a really good time."
Unfortunately for boy band fans, it sounds like Justin's former *NSYNC bros will not be teaming up with him for the musical extravaganza. Joey Fatone recently crushed our nostalgic dreams when he told TMZ that we should probably all say "Bye Bye Bye" to the chance of a reunion during Sunday's big game. "I'm here [at dinner] right now. If I was doing something I'd be in rehearsals right now, so obviously there's your proof. Nothing. And there's nothing wrong with that, he's doing his thing," he confirmed.
We're still thinking Justin has some surprises in store when it comes to this anticipated halftime spectacular. Rumors are swirling of a Prince cover or some sort of tribute to the Purple One (the setting is Minneapolis, after all), and there's also the possibility that one of Justin's many famous friends will join him on stage. Fallon, Pharrell, Britney — are you listening?
Whatever happens, we can't wait to see what Justin has up his ridiculously talented sleeve.