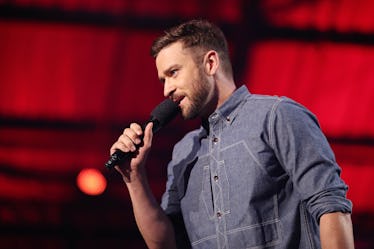 The Super Bowl Will Be Longer Than You Think, So Make Those Extra Nachos
Christopher Polk/Getty Images Entertainment/Getty Images
Football fans, get ready: Super Bowl LII is set for Feb. 4 in Minneapolis where the Philadelphia Eagles will be playing against the New England Patriots in hopes to take the NFL's 52nd annual title. If there's anything the Super Bowl is good at, it's getting millions of people who don't ordinarily watch football to crowd around a television screen for hours to witness who will take the winning title. It's also good at getting people to make delicious appetizers like BBQ wings and nachos, but I digress. Many people are wondering how long the 2018 Super Bowl will be and folks, I'm here to tell you some pretty important deets.
While there's no set end time (you can't get teams to hurry up and win or lose), the average Super Bowl is usually about four hours long. Chat Sports broke it down for those who may be confused:
The Super Bowl is typically four hours long. The game itself takes about three and a half hours, with a 30 minute halftime show built in.
According to The Verge, 2014's Super Bowl was 3 hours and 25 minutes long (pretty short), while 2013's Super Bowl was 4 hours and 15 minutes (pretty long), and last year's Super Bowl was 3 hours and 53 minutes (pretty standard) — so it truly varies.
So, if you're looking for the other details (read: the entertaining stuff), you've come to the right place.
You can catch the Super Bowl on NBC (or stream it on NBCSports.com if you don't have cable). And, while kick-off is at 6:30 p.m. ET, you might want to start eating wings and drinking beer around noon, when NBC hosts Road to the Super Bowl, a romantic comedy that shows how two teams fell in love against the odds. Kidding, it's a segment that shows how the Eagles and the Patriots made it to the Super Bowl.
Wouldn't it be better if it was shot in a rom-com style, though? No? Just me?
The Super Bowl Pre-Game starts at 1 p.m. and will continue until the game officially starts. Our BFF P!nk will be singing the national anthem this year (hell yes) , and Leslie Odom Jr. will be singing "America The Beautiful" (double hell yes).
As far as the main event — aka the halftime show — Justin Timberlake will be taking the stage, and I don't know about you, but I'm AMPED.
A behind-the-scenes video was released that showed J.T. practicing for his Super Bowl debut. In the video, Timberlake says,
I am getting an opportunity to have the stage to myself. I really am looking at it as my first time ... I believe it's also the place where there's nothing wrong with giving people what they want. My biggest challenge is, what is my fingerprint on that show come February 4?
The video ends with Justin saying, "For 12 or 13 minutes, we're going to have a really good time."
I will take Justin Timberlake showing me a good time for 12 or 13 minutes any day, if you know what I mean.
Sorry, couldn't help myself.
We also heard some ~gossip~ going around town that J.T.'s old friends J.C., Lance, Joey and Chris might take the stage to perform, too. People got really pumped at the thought of an *NSYNC reunion at the Super Bowl, but unfortunately, Joey Fatone spoke with TMZ to clear the rumors:
I'm here [at dinner] right now. If I was doing something I'd be in rehearsals right now, so obviously there's your proof. Nothing. And there's nothing wrong with that, he's doing his thing.
Joey did not let us down easy. So harsh.
I mean, maybe he's lying? Super Bowl halftime shows are known for having surprise guests pop out on stage and perform, so perhaps there's hope.
Or maybe it's true: Justin Timberlake is a lone wolf, saying those three painful words to his former bandmates:
*NSYNC or no *NSYNC, I have a feeling that this year's Super Bowl is going to be pretty damn awesome, so make sure to tune in — and wear your favorite stretchy pants for all those game-day apps.