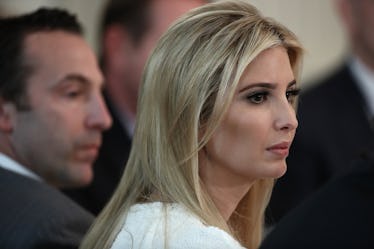 Ivanka Trump's Got Other Plans While Her Dad Heads To Switzerland
Win McNamee/Getty Images News/Getty Images
On Thursday, Jan. 25, President Donald Trump landed in Switzerland, where he's going to make an appearance at the World Economic Forum in Davos. He plans to meet with a number of global leaders while there. The international forum comes just two weeks after Trump reportedly referred to several nations as "sh*thole countries," which he denies. Unable to accompany him during a tense time was First Lady Melania Trump, who cancelled her Davos trip because of "scheduling and logistical issues." That being said, many are wondering if Ivanka Trump is going to Davos to aid her father in diplomatic matters (which she does so well), but it seems like she's got other plans this week.
Responding to a request for comment about any plans to head to Davos, a White House spokesperson referred Elite Daily to Ivanka's public plans for the week. Ivanka Trump is headed to Greenville, South Carolina on Friday, Jan. 25 to campaign with Senator Tim Scott for the recently passed GOP tax bill. They are expected to have a meeting with local Greenville women to talk about the bill and how it will affect the child tax credit, which is one of Ivanka's most important legislative moves. With the help of Senator Scott and other lawmakers, Ivanka helped increase the child tax credit from $1,000 to $2,000 in the new tax bill.
Melania Trump, meanwhile, is also on other matters of business while her husband is in Davos. On Jan. 25, the first lady visited the U.S. Holocaust Memorial Museum in Washington and paid tribute to the millions of Nazi victims in preparation for International Holocaust Remembrance Day on Saturday, Jan. 27. In a statement, she wrote, "My thoughts and prayers are with the people whose lives and families were broken by the horrors of the Holocaust. My heart is with you, and we remember."
The first lady also tweeted that the visit was "a powerful & moving tour that honors the millions of innocent lives lost, and educates us on the tragedies and effects of the holocaust."
Ivanka's communications director, Stephanie Grisham issued a statement to CNN saying the first lady was abruptly canceling the Davos trip because of "scheduling and logistical issues" on Monday, Jan. 22, and many are skeptical of the last-minute change of plans. CNN reported that Melania's last public statement before Jan. 25 was on Friday, Jan. 12, which happens to be the same day The Wall Street Journal reported that President Trump's lawyer, Michael Cohen, allegedly made a payment of $130,000 to former adult film star Stormy Daniels (born Stephanie Clifford) in exchange for keeping quiet about an alleged affair between her and Donald Trump in 2006. (Cohen, Daniels, and the White House have denied all allegation.)
Some are speculating that Melania's absence in Switzerland may be related to news of the allegations. Contributing to the speculation was the fact that Monday, Jan. 22, the day Trump left for Davos without the first lady, happened to be the couple's 13th wedding anniversary.
Trump is acting as a lone wolf in Davos this week, where he is expected to deliver a speech to delegates on Friday, Jan. 26 focusing on his "America First" message. Treasury Secretary Steven Mnuchin told CNN this trip, "is about an America First agenda but America First does mean working with the rest of the world. It just means that President Trump is looking out for American workers and American interests — no different than he expects other leaders to look out for their own."
Trump is the first American president to visit Davos since Bill Clinton in 2000, and with his "America First" attitude at a global convention — as well as his recent alleged derogatory comments towards several countries — it looks like he might be wishing he had his daughter and trusted adviser Ivanka around to save the day and work her diplomatic magic.