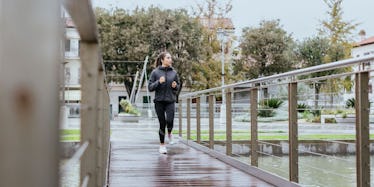 The Most Important Things To Know About Running In The Rain, According To A Trainer
There's nothing like inclement weather that basically begs you to go outside and run. I'm not even being sarcastic, guys. I love running when it's pouring out — something about it just feels so damn good. But is it really OK to run in the rain? I mean, if I'm being honest, I'm probably not going to change my ways regardless, but a girl's got to know if she's low-key prone to some serious slippage, you know?
If you love running in the rain as much as I do, then you've probably wondered the same thing, or whether you maybe need a special kind of sneaker to make sure your feet can maintain their traction on the wet pavement, or whether you should just do a different workout altogether when it's rainy and dreary out. Especially with winter approaching, we need some answers, y'all.
Thankfully, according to Logan Dube, personal trainer and director of education at Steve Nash Fitness World & Sports Clubs, there's no reason why you should let the rain stop you from enjoying an outdoor run. As long as you dress appropriately to stay warm (and dry), Dube tells Elite Daily, you can still have a great workout. *Breathes a huge sigh of relief.*
Dube does have some advice for those who love rainy cardio sessions, though, starting with proper footwear. "There's definitely footwear designed to keep you running through the rain," she explains. "Look for a running or trail-running shoe that has a rubber outsole — this will give you better grip on trails and wet surfaces. There are also different styles/depths of tread that increase your grip on the road."
And if you want to splurge a little more on your running sneakers, Dube recommends getting shoes that are waterproof, but still relatively lightweight. "Dry feet can make your run much more enjoyable," she tells Elite Daily. TBH, true. There are very few worse feelings in this world than damp socks, IMO.
"There are also lots of different types of athletic clothing that can keep you warm and dry," Dube says. We're talking water-resistant jackets, vests, and even make-shift trash bags if you don't feel like spending money.
All of this being said, maybe you've also wondered whether you can get sick from running in the rain, even if you're wearing all the right gear and staying as warm as possible, particularly if it's a chillier winter day.
According to Dube, there's typically no link between running in the rain and sickness. "Getting sick is more likely a combination of factors like high or chronic stress, poor nutrition, not enough sleep or recovery time, and exposure to bacteria/viruses," she tells me over email.
So, in order to make sure you don't get sick in general, the trainer simply recommends taking care of yourself. "Try to get seven or more hours of sleep each night, eat healthy foods at regular intervals (especially foods high in nutrients, like fruits and vegetables), take a multivitamin, and wash your hands before eating and after being in high-density public spaces (like bathrooms and public transit)," Dube explains.
And if you feel like you might be getting sick or are fighting something off, take it easy and rest so you can fight the illness off faster instead of straining your body and extending the length of the illness (aka no running in the rain on those days, fam). If your symptoms persist longer than a couple of days, Dube suggests seeing your doctor.