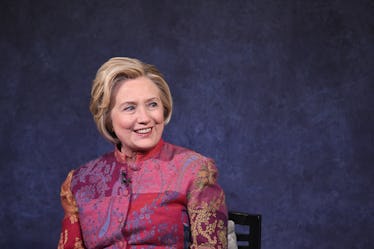 There's One Face You Probably Don't Need To Look Out For At The State Of The Union
Jamie McCarthy/Getty Images Entertainment/Getty Images
There are two things the State of the Union (SOTU) is popular for: the actual speech from the president telling Congress and the general public how well we're doing as a country, and also for all of the event's attendees. Among the attendees are usually people like the first lady, advisers, members of the Supreme Court, congresspeople, and others. Since Hillary Clinton is an ex-first lady, we're just wondering, is Hillary Clinton at the State of the Union? I'm going to guess... no.
Clinton has attended State of the Union addresses pretty often in the past, though. She attended the State of the Union during the presidencies of Bill Clinton, George W. Bush, and Barack Obama, during which time she served as first lady, senator of New York, and the United States Secretary of State, respectively. This year, she is neither a member of the first family nor an official in politics, so she doesn't have much of a technical reason to be there on Tuesday night.
Clinton missed one State of the Union back in 2010 — during her tenure as Secretary of State — due to conferences in London; however, the decision was reportedly under the advisement of Barack Obama. During an afternoon briefing on Jan. 27, 2010, a State Department spokesperson P.J. Crowley said, "[President Barack Obama] made it clear given the importance of these issues that her place tonight was in London, rather than here in Washington." He added that "her presence in London reflects that we have done a great deal over the past year to rebuild frayed alliances and recreate common cause in terms of fighting and solving crucial global issues."
It seems that while serving in public office, Clinton has only skipped the addresses when business called. However, since her tenure as the secretary of state, which ended in 2013, she's been MIA at the annual event.
Clinton has publicly expressed her distaste for President Trump.
With President Trump in office, it's not all that shocking that Clinton wouldn't attend the event, considering their history of opposition to one another. Following President Trump's recent alleged "sh*thole" comments, in which he reportedly asked why the United States should accept immigrants from "sh*thole countries," in reference to an immigration deal, Clinton denounced his remarks. She wrote on her Twitter on Jan. 12 that America was being "subjected to Trump's ignorant, racist views of anyone who doesn't look like him."
During a forum in Arkansas on Nov. 18, 2017, Clinton said the president was "obsessed" with her "speaking out," according to Politico. She said,
Apparently, you know, my former opponent is obsessed with my speaking out. Apparently there was another, somebody told me, tweet today. Honestly, between tweeting and golfing, how does he get anything done? I don't understand it. Maybe that's the whole point.
But on Feb. 28, 2017, as Trump delivered a speech to a joint session of Congress in his usual, outlandish fashion, Clinton took the high road and refused to comment on his remarks.
One can only speculate if Hillary will choose to skip the State of the Union, but maybe she'll take the high road again and decide to opt out of the event — rather than give Trump the spotlight.
There are plenty of people who have chosen not to attend the SOTU.
Earlier in January, Democratic Reps. Maxine Waters, Frederica Wilson, John Lewis, Pramila Jayapal and Earl Blumenauer all announced their plans to boycott the SOTU because of President Trump's recent alleged comments on African countries.
Rep. Wilson from Florida told The Tampa Bay Times that Trump's address would be "full of lies." She said,
I have no doubt that instead of delivering a message of inclusivity and an agenda that benefits all Americans, President Trump's address will be full of innuendo, empty promises, and lies. For the first time since I began serving in the U.S. House of Representatives, I will not be attending the president's State of the Union address.
On Jan. 5, Rep. Earl Blumenauer said he would skip out on the SOTU "rather than listening to yet another destructive and divisive speech by Trump," and on Jan. 14 while visiting ABC's This Week, Rep. John Lewis said that, "In good conscience, I can not and will not sit there and listen at him as he gives the State of the Union address."
Ouch.
So if Clinton doesn't show, we can probably guess it might have something to do with President Trump. Or perhaps she's just been too busy with her newfound love of mysteries. This matter, however, is one we may never solve.
Disclosure: Hillary Clinton's son-in-law Marc Mezvinsky joined Social Capital, an investor in Bustle Digital Group, in mid 2017 and joined the Board of Bustle Digital Group in early 2018.