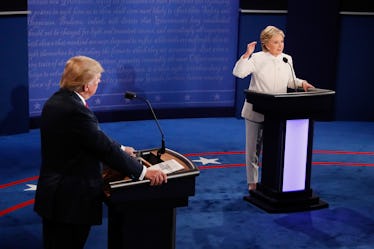 Hillary Clinton Slammed Donald Trump For His Comments About Haiti
Pool/Getty Images News/Getty Images
All through Friday, Jan. 12, conversations in politics have been lit up with a quote reportedly said by President Donald Trump in which he referred to El Salvador, Haiti, and African nations as "sh*thole countries." This quote comes at particularly interesting timing, as Friday marks the eighth anniversary of a devastating earthquake that struck Haiti. This was a fact quickly pointed out in Hillary Clinton's tweet about Trump's Haiti comments.
"The anniversary of the devastating earthquake 8 years ago is a day to remember the tragedy, honor the resilient people of Haiti, & affirm America's commitment to helping our neighbors," Clinton said in a tweet posted on Friday afternoon. "Instead, we're subjected to Trump's ignorant, racist views of anyone who doesn't look like him."
A 7.1 magnitude earthquake struck Haiti on Jan. 12, 2010. An estimated 220,000 people were killed, according to CBS, and over 1.5 million people were left homeless. This devastation prompted the United States to allow people from Haiti to live in the U.S. without threat of deportation. It appeared to be this exact policy that Trump was referring to in his now-infamous alleged quote.
The alleged comment came on Thursday during a meeting about immigration and was reported by The Washington Post. Per The Post, Trump asked why the United States is "we having all these people from sh*thole countries come here." He was apparently referring to El Salvador, Haiti, and African countries.
In a tweet sent on Friday morning, Trump denies having said that, writing that "the language used by me at the DACA meeting was tough, but this was not the language used." Illinois Senator Dick Durbin, who was present for the immigration meeting, said on Friday that Trump did, in fact, use those words.
The president added in a tweet on Friday that he "never said anything derogatory about Haitians other than Haiti is, obviously, a very poor and troubled country."
In fact, President Trump is working to get many people from Haiti out of the United States. In November, the administration announced that they would not renew Temporary Protected Status (TPS) for Haitian refugees. Back after the earthquake in 2010, the Obama administration granted this status for Haitian people who had lost their homes in the destruction. By refusing to renew the TPS, the Trump administration is effectively forcing these people to get out. This results in approximately 59,000 people having 18 months to leave the United States, which had been there home for years. So that Trump would allegedly make those comments the day before the eighth anniversary of the earthquake and after he revoked a protective status for refugees of that earthquake is just rubbing salt in the wound.
Clinton herself, though, does not have the best track record when it comes to Haiti — and the 2010 earthquake. Clinton was Secretary of State and her husband was the United Nation's Special Envoy to Haiti in 2010. Bill Clinton was made co-chairman of the Interim Haiti Recovery Commission (IHRC), which was supposed to help spread donations to restore the nation. However, the IHRC was heavily criticized for moving slowly and not using the funds to more directly help Haitians. The U.S. Government Accountability Office found no wrongdoing in the IHRC's actions, but said they were "not necessarily aligned with Haitian priorities."
That arguable failure on the part of Bill Clinton did not stop Hillary Clinton from sharing her message of support for the island nation. Her daughter Chelsea, too, tweeted against Trump's alleged comments, noting that immigrants "likely helped build [Trump's buildings]" and "certainly helped build our country."
Chelsea's tweet has been retweeted over 15,000 times, while Hillary's racked up over 17,000 retweets so far. Trump's not gonna like those numbers.
Disclosure: Hillary Clinton's son-in-law Marc Mezvinsky joined Social Capital, an investor in Bustle Digital Group, in mid 2017 and joined the Board of Bustle Digital Group in early 2018.