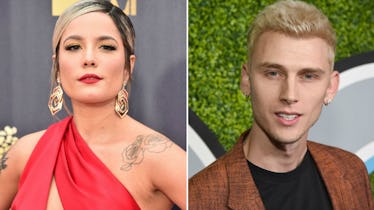 Halsey Just Slammed Rumors She's Dating Machine Gun Kelly After G-Eazy Split, Because Duh
Alberto E. Rodriguez/Getty Images Entertainment/Getty Images | Michael Kovac/Getty Images Entertainment/Getty Images
Halsey may have just split from G-Eazy, but that's not stopping fans from speculating about her current relationship status. In a since-deleted tweet from Monday, July 9, a fan posted a photo of Halsey and rapper Machine Gun Kelly on the beach, which led to fans commenting about a possible rebound relationship. Is Halsey dating Machine Gun Kelly? Definitely not, according to Halsey.
After the beach photo surfaced, Halsey, who is currently on tour, quickly clarified the rumors. "I'm not at the beach. I'm on tour. Alone. Slow news week I guess," she reportedly said in one tweet.
And then she reportedly followed that up with: "I'm not with anybody. That photo is 2 years old. Everyone mind they damn business."
The photo in question shows Halsey and Machine Gun Kelly hanging out at the beach and looking at the camera. But, as Halsey said, it's two years old and has no bearing whatsoever on her current relationship situation.
The Machine Gun Kelly rumor comes after Halsey broke off her relationship with rapper G-Eazy. She announced the split via Instagram on Tuesday, July 3, with the following message:
I normally keep this kind of thing private but provided our public nature I feel the need to inform my fans. G-Eazy and I are taking some time apart. I'm eager to continue the upcoming passage of time dedicating myself to my art and my career, and the duration of my tour. I wish him the best. Thanks for respecting our privacy at this time.
Then, on Friday, July 6, the 23-year-old singer broke down while performing at one of her concerts.
Here's a video that a fan captured of the moment:
In the video, Halsey sits on the stage in a blue outfit and sings "Sorry," a breakup ballad that likely hit too close to home.
Amid all the tears and drama of the breakup, rumors started swirling that Halsey was rebounding with Machine Gun Kelly. But a source close to Halsey told Us Weekly that those rumors were simply not true.
"Halsey and Machine Gun Kelly are just friends," the source said. "She definitely isn't rebounding with him. They have known each other for a long time and share a ton of mutual friends."
That source also explained why Halsey's relationship with G-Eazy ultimately didn't work out.
"With her and G's schedule, things became unfavorably complicated," Us Weekly's source said. "They tried to make the distance thing work, but the two of them are both super engaging and interactive people and it became too difficult for them to sustain a balanced and healthy relationship when they were spending so much time apart."
So, basically, Halsey is going it alone for the time being, no matter what fans may think. That's not to say that Halsey and G-Eazy are completely calling it quits. According to Us Weekly's insider source, the couple is still hoping to reconcile in the future.
"They are still very much in love and are optimistic about their paths inevitably crossing again in the future," the source explained. "They believe if it's meant to be, it will be. In the meantime, they are just focused on growing as artists, as people, and are doing their best to set a positive example for their loved ones and fans."
Sounds like they're leaving it up to fate! With any luck, it'll all work out for them.
Halsey and G-Eazy started dating in the summer of 2017. So, they were together for a just about a year before going their separate ways. While there is some fan speculation that G-Eazy cheated on Halsey, neither party has confirmed that to be true. Elite Daily reached out to both teams for comment on that report but did not hear back by the time of publication.