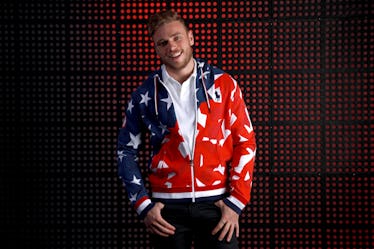 Gus Kenworthy Is At The Olympics Opening Ceremony & We Can't Wait To See Him Shred
Tom Pennington/Getty Images Sport/Getty Images
The Olympics opening ceremony might actually be the best part of the entire event. In addition to being one of the most popular sporting events around the world that features most countries coming together, it gets us totally pumped for all the individual games to come. Most importantly, it gives us a good look at all of the athletes we'll be able to watch this season. And, like the rest of us, you might be wondering if this year's Team USA favorite Gus Kenworthy is at the 2018 Olympics opening ceremony... because I know for a fact that I'm on the lookout for him RN.
In all of his beautiful and talented glory, I am happy to say that Gus is, in fact, at the opening ceremony. He's out there, repping America in that really freaking cold weather, getting ready to slay with almost every other country in the world as they show off their winter gear in PyeongChang.
In his Instagram story, posted during the opening ceremony, Kenworthy shared a pic with "the legend," as Kenworthy called him, Shaun White, from the stadium. Seeing Kenworthy starstruck is just really fantastic. Just look at how much fun the athletes are having together.
...and at how cold it is.
I'm seriously so excited that Kenworthy is at the opening ceremony, and just at this year's Olympics, in general. He's one of the most anticipated competitors in this year's Winter Games, and has a pretty awesome backstory.
As chronicled on his website, Kenworthy's journey began overseas, as he was born in the UK to an American father and an English mother. He has two older brothers, named Hugh and Nick Kenworthy — and when Gus turned 2 years old, his parents moved to Telluride, Colorado.
As soon as he got to Telluride, Kenworthy basically learned to ski just as he was learning to walk (as most Coloradoans do). By the time he was in high school, Kenworthy was posting some seriously awesome YouTube videos of his sweet tricks and skills, which gained him some major #internetfame.
Not before long, Kenworthy started getting professionally filmed, and that's when he became a pretty well known freestyle skier and halfpiper. After graduating Telluride High School high school in 2010, he started competing in the real world. Each consecutive year from 2011 to 2013, Kenworthy won AFP World Championships winning titles. In 2014, he competed in the Olympic slopestyle team, where he took home the silver medal. That same year, he also ended up taking home a bronze medal at the X Games in France for slopestyle. So, that's when Kenworthy officially entered our radar... and he legitimately never went back.
In 2015, Kenworthy came out as gay on the cover of ESPN Magazine. In an Instagram post about his sexual orientation, he wrote, "I am gay. Wow, it feels good to write those words. For most of my life I've been afraid to embrace that truth about myself. Recently though, I've gotten to the point where the pain of holding onto the lie is greater than the fear of letting go, and I'm proud to finally be letting my guard down."
Fans, the U.S. Freeskiing Team, and ESPN were all super supportive of Kensworth's announcement (as they should be).
So whether you're pumped for the various ski-based events, or if you're dying to see some luge, there's no doubt in my mind that you're also super excited to see a glimpse of Kenworthy. And my heart is exploding seeing Gus participating in the opening ceremony with other fan-favorite Olympians.
There's no doubt in my mind I'll be cheering for him extra loud during this year's highly anticipated Winter Games. My favorite slopestyle-ing heartthrob is undoubtedly going to steal medals — and also my heart — this winter season.
Erin Jackson is an inline skating world medalist and roller derby MVP. She dreamed of skating in the Olympics, but to do that, she had to get on ice. She took her first steps on a long-track course in 2016 and started training professionally in September 2017. Four months later, she qualified for the Olympic Winter Games. Check out Elite Daily Insights' video on Jackson's incredible story: