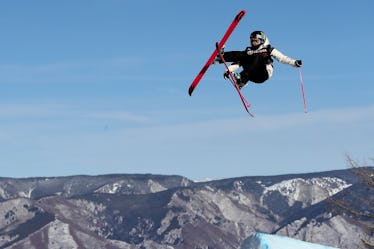 Slopestyle At The Winter Olympics Is Seriously Epic, & Here's What To Know About It
Matthew Stockman/Getty Images Sport/Getty Images
There are several Winter Olympic events that I like to envision myself participating in, and one in particular is Slopestyle. Upon hearing "slopestyle," some bad ass winter fashion might come to mind, but in the Winter Olympics sense, it's totally different. Taking place on skis or a snowboard, Slopestyle looks incredible, it's fast-paced, and it's truly invigorating to watch. So if you're not entirely sure how it works, definitely read up on what Slopestyle is, and what the rules are. Some of year's U.S. Slopestyle athletes are hella cool as well, so you definitely won't regret a little extra research.
Slopestyle is a truly epic sport, which entails flying off crazy jumps and rails, doing backflips, and landing any and all other seemingly impossible acrobatic tricks. Sounds like fun, right?
Even though you didn't hear anything about Slopestyle in the realm of the Winter Olympic Games until Sochi in 2014, Slopestyle actually originated in the 1990s. Going downhill on skis, as part of the freestyle skiing event, or on a snowboard, riders make their own path down the course, hitting a variety of obstacles, rails, and jumps. Harder tricks rack up even more points for each rider. Same as the halfpipe, the Federation International de Ski (FIS) judges Slopestyle at the Winter Olympic Games, and they judge each run based on the the "overall impression" given. Riders are scored out of a hundred, and each score is averaged from six individual judges, according to WhiteLines.
The rules to Slopestyle are relatively straightforward. According to Top End Sports, the main obstacles used for Slopestyle include: straight rail, rainbow rail, up-flat-down rail, flat-down handrail, and flat-down-flat-down handrail. And the tricks that athletes perform in Slopestyle competitions fall into four main categories, which are spins, flips, grinds, and grabs. It's not graded on speed in the slightest, although riders literally look like they're zooming down the mountain at top speed. Each run is graded on solely on tricks, and accuracy is definitely key.
Among several incredibly talented and brave athletes, one Slopestyle athlete to look out for this year is 17-year-old Red Gerard. According to TeamUSA.org, he's set to go to the 2018 Winter Olympics for Slopestyle snowboarding, coming all the way from Silverthorne, Colorado. He is predicted to become the youngest American snowboarder to medal at the Olympic Winter Games, if he ends up winning. Boarder Kelly Clark currently holds the place for the youngest Olympic snowboarding medalist, having placed first in 2002 at only 18 years old, per TeamUSA. Though viewers also anticipate Chloe Kim to excel in Slopestyle, as she made the Olympic team at age 17, Gerard is actually two months younger than she is, making him the potentially youngest candidate.
A Slopestyle skier to definitely look out for is Gus Kenworthy. As a Slopestyle skier, Kenworthy already won all of our hearts during the 2014 Sochi Olympic Games, and he probably will once again in Pyeongchang. In addition to his remarkable talent on the slopes, Kenworthy also rescues stray puppies (yes, you heard that correctly), advocates for the LGBT community, (he came out via ESPN Magazine in 2015), and is currently dating actor Matt Wilkas.
The entire U.S. Olympic snowboarding Slopestyle team is also beyond incredible, so you'll def want to make a point of following all of them on Instagram. Jamie Anderson is another one of the absolutely amazing Slopestyle athletes, so be prepared to watch her shred like no other, along with the rest of the U.S. Slopestyle Olympic team.
Check out the entire Gen Why series and other videos on Facebook and the Bustle app across Apple TV, Roku, and Amazon Fire TV.