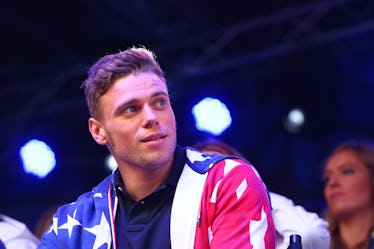 Gus Kenworthy Has Been Olympic-Ready Since He Was A Kid, Thanks To His Parents
Mike Stobe/Getty Images Sport/Getty Images
The Olympics are only weeks away, and it's time for the greatest athletes on snow and ice to step forward once more and compete for the title of the best there is, and win the gold metals to prove it. The biggest athletes in winter are the double threats — those who can compete on the slopes in different formats, like Gus Kenworthy, the U.K.-born freestyle skier. He's been competing in since 2011, right out of graduating high school. Gus Kenworthy's parents prepped him for the Olympics from the time he was young. Their training, and his persistence, have paid off.
Gus was born in the U.K. to an American-born father and an English mother. He's the youngest of three children, with two older brothers, Hugh and Nick Kenworthy. All three were born overseas, but they didn't stay there long. In 1993, when Gus was only two years old, his parents moved back to the U.S., settling in Telluride, Colorado.
Now, as those who know that area will attest, Telluride is where a lot of snow-based athletes get their start and train year-round. Gus' parents put him on the snow almost as soon as he could walk. Recognizing his love of snow sports early, by his teen years, they were posting videos of his tricks and his skills on YouTube, which turned him into a minor celebrity. It wasn't long before he was filming ski jumps professionally, and from there, it was a short move to moving up the freestyle skiing ranks.
Kenworthy is what's known as a "double threat" because he's not just a skier, but a halfpiper too. He's part of what's known as the "slopestyle team," which he competed with at the 2014 Sochi Olympics.
He graduated high school in 2010, after taking a year off to ski, with his parent's blessing. Once he finished school, he went straight to the competition circuit. Starting in 2011, he won the AFP World Championship's overall title for three years running. He probably would have won in 2014 too, but he was busy winning the silver medal at the Olympics in Sochi. He also competed in the slopestyle event at the X Games in France that year, taking home the bronze.
But he didn't become a household name until 2015, when he did something that shouldn't be remarkable in this day and age, and yet is in the athletic community: He came out as gay.
He'd done the same to friends and family two years prior. Like their support of his love of the slopes, it was his family's support that helped him come out to the world at large.
Hiding everything away is so painful. You're constantly lying and constantly feeling like you're being deceitful. I'm just at that point where I'm ready to open up and let everyone see me for me and I hope everyone accepts it.
Kenworthy's return to the Olympics this year makes him one of the major stars to watch, not only for his groundbreaking status as an LGBT athlete, but also because of his sheer talent on the snow.
Talking to People magazine about his chance to return to the games, Kenworthy said this:
I have the LGBT audience behind me and there's all these people that I want to make proud and I want to do well aside from just myself, and so I feel like I've got a little bit more on my shoulders. But I also think that I do well under pressure so I'm hoping that that is a good thing for me and it's all good influences.
We can't wait to see Kenworthy compete on the slopes next month. The Olympics air from Feb. 9 to Feb. 25, 2018 on NBC.