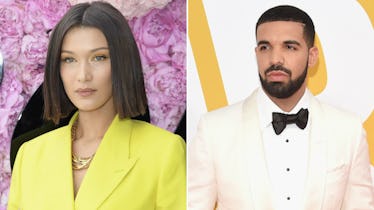 Drake & Bella Hadid Were Totally A Thing If These 'Scorpion' Lyrics Are Anything To Go By
Pascal Le Segretain/Jamie McCarthy/Getty Images Entertainment/Getty Images
Drake is spitting pure FIRE on his new album, Scorpion. On June 29, our world as we knew it was officially rocked when Drake's lyrics on many of his new songs brought to light some pretty revelatory news — he basically confirmed the rumors that he has a son. But there's one track on the album called "Finesse" and its lyrics are making a lot of fans question who it's about. If you listen carefully enough, there are enough clues that make you think it's about one supermodel in particular: Bella Hadid. So, is "Finesse" about Bella Hadid? Were Drake and Bella Hadid a ~thing~ that we didn't know about? It's been known that the two were flirty friends, but if you listen to the lyrics, it's got me thinking that there was something much more going on there.
Let's dive in, shall we?
On "Finesse," the Bella Hadid hints come up startlingly quick. Within the first few verses, Drake raps:
I want my baby to have your eyes/I'm going against my own advice/Should I do New York? I can't decide/Fashion week is more your thing than mine/I can't even lie, I'd rather stay inside/I can't do suit and tie/Can't be in a room with you and stand on different sides/One thing at a time/I have to learn to hide/One thing at a time/Emotions running high/I wish you felt alright
Note how Drake talks about Fashion Week — and as we are all well aware, Bella Hadid is basically a New York Fashion Week queen, slaying the catwalk for a ton of top fashion brands. But look, this could really be about anyone at this point, so let's go a bit further.
Drake continues rapping, saying:
You and your sister/Too hot to handle/Things would get canceled/I would make time for you/Commitment/Going the distance/I'm new to all of this
Hmm. Think think think. Who is a Fashion Week model who has a sister and they are both "too hot to handle?" OH, THAT'S RIGHT, BELLA HADID.
I mean, Bella and Gigi Hadid surely fit this description that Drake is referencing. Am I right, or am I right?
And it's not like the idea that Bella Hadid and Drake might possibly have had a romantic relationship in the past hasn't been touched on before.
Back in October of 2017, Hadid's mom and Real Housewives of Beverly Hills star Yolanda Hadid sat down with Andy Cohen on Watch What Happens Live, where he was asked about the status of her daughter Bella's relationship with Drake.
Cohen asked, "There are rumors that Bella is dating Drake. Is that true?"
Hadid looks exasperated and said, "Are you kidding me?" and Cohen refused to drop the subject. He said, "He threw her a big 21st birthday party last night. You were there!"
(Which, in case you didn't know, is totally true. Drake did throw Bella Hadid a birthday party, which is pretty much how all of these rumors began in the first place.)
Hadid acted like she had NO idea that Drake was the one who threw the party, jokingly saying, "He did? I had no idea!," but then added, "They're friends."
I mean, come on Yolanda. You can't fool us. Our BS detectors are too good, even for you.
And, if that doesn't completely prove that Drake is 100%, definitely talking about Bella Hadid on "Finesse," then this next tidbit of information might: On the track "Sandra's Rose," Drake raps, "My house is full of supermodels just like Mohamed Hadid," who is Bella Hadid's father.
Meaning that clearly, the Hadids have been at the forefront of his mind when writing his new music. Sink your teeth into that one, fam, because it's juicy AF.